Serious Commercial Equipment For Serious Roofers
The Equipter line of commercial roofing equipment was made to help roofing companies like yours succeed. When you put Equipter tools on the job, they alleviate common hassles while helping you boost your profits.
It's no secret that commercial roofing presents its share of challenges…
Crews sometimes struggle negotiating tight spaces on properties to get themselves—and their supplies—to where they need them.
Handling materials often takes more time than it should.
Debris removal can make a big mess—and require a lot of time and manpower.
All of that makes it tough to control payroll and make the amount of profit you've set your sights on.
What commercial roofing companies need is a way to cut time on every job without sacrificing quality, get more work done with the same amount of employees, and make more money on every job.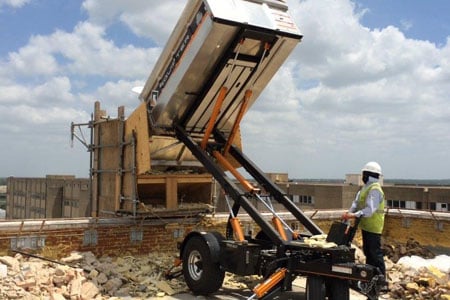 Equipter Commercial Equipment To The Rescue
The Equipter brings you greater business efficiency. It enables you to:
Prevent time wasted double-handling debris.
Haul materials from your truck to precisely where your crew needs them.
Save your crew the time and hassle of cleaning up scraps that got away during the teardown process.
Do your work without worrying about damaging decorative plants and other property features.
Decrease the risk of employee injuries when taking supplies up and down ladders.
Complete more work with the same or fewer crew members.
Equipter commercial equipment will help your roofing business do what you thought couldn't be done.
Save time.
Take on more work.
Control costs.
Put your profitability on the upswing.
"The Equipter cut our labor in half and our production skyrocketed"
- Tim Rainy Supreme Roofing