Demolition Equipment To Give You Debris Removal Super Powers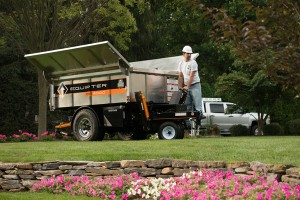 Save Valuable Time As You Tackle Jobsite Cleanup With Ease.
With the Equipter line of demolition tools, you'll find cleaning up after demolition jobs will require less time and less labor. We design our debris management equipment to streamline work—so your business reaps the rewards that come from increased efficiency. Finish jobs faster and better and boost profitability with our jobsite debris management solutions.
Debris Management Equipment That Means Business.
Equipter builds state-of-the-art tools that let you remove and manage debris more effectively and efficiently. Simplify your demolition cleanup work with our CR8000 series of mobile cranes, self-propelled dump trailer, and our one-of-a-kind RB4000. Whether you're cleaning up after a storm, tearing down a two-story structure, or removing an in-ground pool, our tools will help you clear your jobsite more quickly and more thoroughly.
How can our demolition cleanup equipment help your crews work more efficiently? We're glad you asked!
Contain debris so it doesn't fall where it's not supposed to be.*
Reduce the risk of worker injuries from manually removing and carrying heavy pieces of debris.
Get more work done in less time with fewer crew members.
Eliminate double-handling of debris.
What's in it for your demolition company?
Spend less time on every job, and fit more jobs into your crew's schedule.
Decrease payroll expenses.
See a more profitable bottom line.
Can your demolition business afford to waste time? We didn't think so! Work faster and more effectively with our productivity-boosting line of debris management equipment.
*For even more efficiency and effectiveness on every job, get Equipter's Debris Bag. It simplifies debris handling and makes debris removal more affordable than ever!