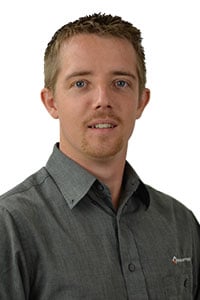 As sales manager at Equipter, I get to interact with customers by taking calls, doing demos, and traveling to trade shows. I also manage a lot of the day-to-day work flow for the Equipter sales team. I love interacting with my customers, and I am also lucky to have a great team of coworkers here at the office. Things are never boring – whether we're on the clock or having lunch together.
Before becoming Sales Manager, I gained a lot of hands on experience. I began working for my dad's roofing company back when I was a teenager, and once Equipter was founded I became a hydraulic technician. I assembled many Equipter products along filling various roles in welding, painting, service, and shop management. Those experiences gave me the opportunity to learn about the equipment inside and out and also gave me a great understanding of the value of getting your hands dirty.
When we are at work, we work hard. But when I am not in the office, I love playing guitar, singing, dating my wife, traveling and seeing new places together. I'm also involved with leading the worship team at our church.