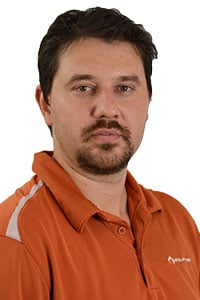 My role at Equipter is to manage the workflow in the shop and oversee inventory management. I am currently spending a lot of my time in research and development and design work in order to bring new products to market. However, I still find time to get out of the shop to get my hands dirty and work on service units occasionally.
I feel lucky to be working at a company that allows us the freedom to work the way that is best for us. The owner is passionate about his company, the people who work for him, and about following his calling. He understands that each person has a greater purpose and wants to help them on that journey. Of course, the great food that the company provides is also an upside to working here…
My first job was in a pallet shop. After that, I spent seven years manufacturing log home kits and gaining crucial technical skills and business insight. Spending time in that type of industry helped me to understand the importance of working with your hands and creating beautiful products. I still have a hobby shop in my house where I make wood furniture.
My boss is also my father-in-law. I married his wonderful daughter in 2008, and began working at Equipter one year later. My wife and my three children are my priority, and I love spending time with them. We enjoy anything that gets us out into God's creation – basketball, softball, fishing, hunting, riding ATVs, and visiting the endless mountains of Montana where my parents live.