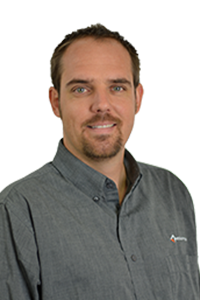 I wear a lot of hats at Equipter – from general oversight to marketing to research and development. I handle systems administration and implement processes that help us accomplish our visions and goals. I also get to provide unique and well-designed products and solutions that utilize new technologies. It is exciting to continually push the market forward.
Here at Equipter, we enjoy coming up with great solutions to expensive problems, and we enjoy working as a team. I helped to start Equipter and work hard to maintain a great company culture that provides innovative products. We want to stand out in the marketplace, and we want to partner with hard-working individuals in labor-intensive industries. Before Equipter, I worked as a roof installer. That work got me to where I am today, and it gave me respect for the industry.
Outside of work, I have a few things that are very important to me. I love my wife and our two children – one boy and one girl. I am dedicated to my faith and am very involved in our church and ministries that value the importance of combining business and ministry. And bicycling is one of my favorite hobbies.