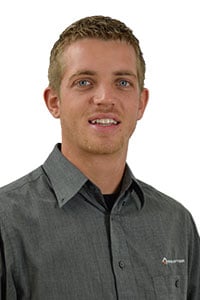 My current role at Equipter is marketing our products so that the people who need the Equipter the most learn about our unique solutions. I also work in sales to answer any questions via email or phone that you may have about the Equipter. You (the customer) are the best part about my job! I love working with our current customers, meeting new people, and establish those relationships.
I also consider myself lucky to work in a setting where I can call everyone my friends. We are an awesome team here at Equipter, and we work well together. Part of our friendly atmosphere comes from having similar backgrounds. A lot of our education has come from simply getting out into our industries and working. Once I began at Equipter, I started in the manufacturing facility where I learned everything from welding and painting to hydraulic and axle assembly. After a few years gaining respect for the product and the process, I moved into my current sales role with a good base knowledge of the construction industry.
Aside from a job that I enjoy, God has also blessed me with an amazing family! My wife and I married at the ripe age of 20 and have since been blessed with our daughter. Some of my hobbies include music (I am on the worship team at our church), videography (you will see some of my videos used in Equipter's marketing materials), and coffee (I insist on roasting my own, and I dream of starting a coffee plantation in another country).