The Equipter Debris Bag is providing a unique solution to a problem facing residential roofers on a daily basis…
How do you get rid of debris efficiently and effectively?
Homeowners hate having their beautiful properties disrupted by dumpster or dump trucks. Homeowner associations hate the sight of a dumpster sitting along the street. And roofers hate hauling debris to the dumpster.
The Equipter RB4000 lift helps alleviate some of these headaches, and the Debris Bag is a perfect companion to the RB4000 lift. Together they tackle clean up in a way that increases efficiency and customer satisfaction while decreasing labor and costs.
How Does a Dumpster Bag Work?
Bulk Orders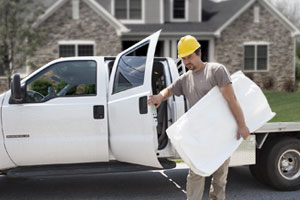 Roofing companies can order Debris Bags in bulk to keep on hand. They weigh less than 10 pounds and are foldable, which makes them very easy to store at the office and on-site. A single Debris Bag can hold up to 4 yards and 2,500 pounds of debris. Once you have the Debris Bags on the job site, you can use them with the Equipter RB4000 lift or on their own.
RB4000 Insert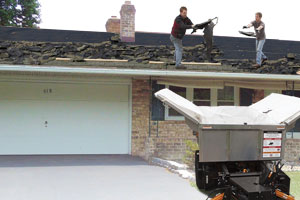 If you own or are renting an Equipter RB4000 lift, simply insert the Debris Bag into the bed of the RB4000. Clear debris as you usually would and once the Debris Bag is full, you simply need to fold the Debris Bag flaps, lower the RB4000 tailgate, and drop the Debris Bag out of your way.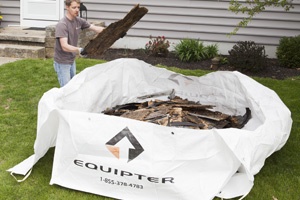 If you are not currently using the RB4000 lift, you can still use the Debris Bags. They are to be used instead of a dumpster so that you can load them up wherever you happen to be working and never have to transport debris to a separate location where the dumpster has been set up. You can use multiple Debris Bags at the same time to further increase efficiency and leave them wherever they have been placed around the property.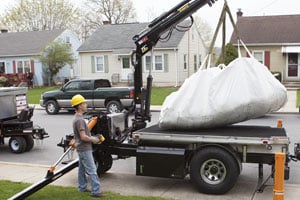 Once the job is complete and the debris needs to be taken away, you simply need to call or text Equipter for a pick up. They will send a mobile crane that can go where no dumpster could without destroying lawns and gardens. The crane will go around and pick up all of the Debris Bags and haul them away without you having to lift or transport a thing.