The RB3000 – The Self-propelled Dump Trailer
The Equipter RB3000 is a drive-able dump trailer and dumpster that's a powerful piece of construction equipment. The Equipter RB3000 helps construction, landscaping, and roofing companies move supplies and tools to where they need them and remove debris faster.
Equipter RB3000 Features
Using the right tools can boost productivity—and profitability—at the jobsite.
Check out what makes this dump trailer a powerful asset to your business:
Self-Propelled
You can move the RB3000 around jobsites all day as it runs on its own self-contained power source.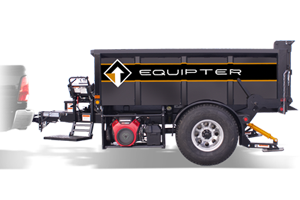 Easy To Tow
By simply hitching it to your pickup truck, you can take the RB3000 to jobsites. It's great for hauling roofing materials—and for hauling debris.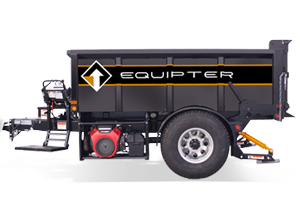 Built To Carry The Load
With Its 3.8-Yard Box, The Equipter RB3000 can hold more than 3,800 pounds. And It rides smooth even at highway speeds because of its heavy-duty spring suspension.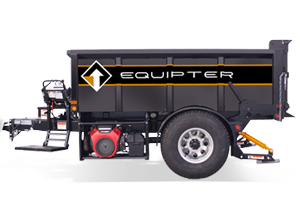 Compact
The compact RB3000 has a tight turning radius, allowing contsruction companies to navigate with precision. because It's just 6 feet wide and 13 feet long, you can maneuver It into difficult spots that larger dump trailers can't fit into.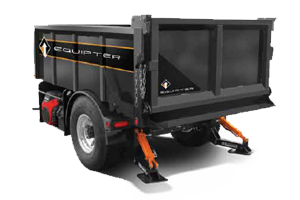 Wide Tires
With Its wide tires, the RB3000 helps minimize unwanted tracks on lawns and landscapes. customers appreciate that!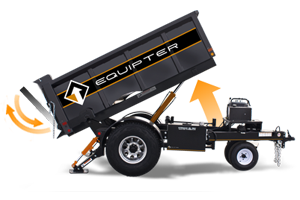 Dumps With Ease
Because It's Hinged At The Top And Bottom, The RB3000'S Powered Tailgate Lets You Easily Dump What You Haul. Dump Material On One Big Pile Or Spread It. Either Way You'll Find You Can Dump With Ease. With Rear Stabilizers For Support, The
RB3000 Stays Steady On Uneven Terrain.