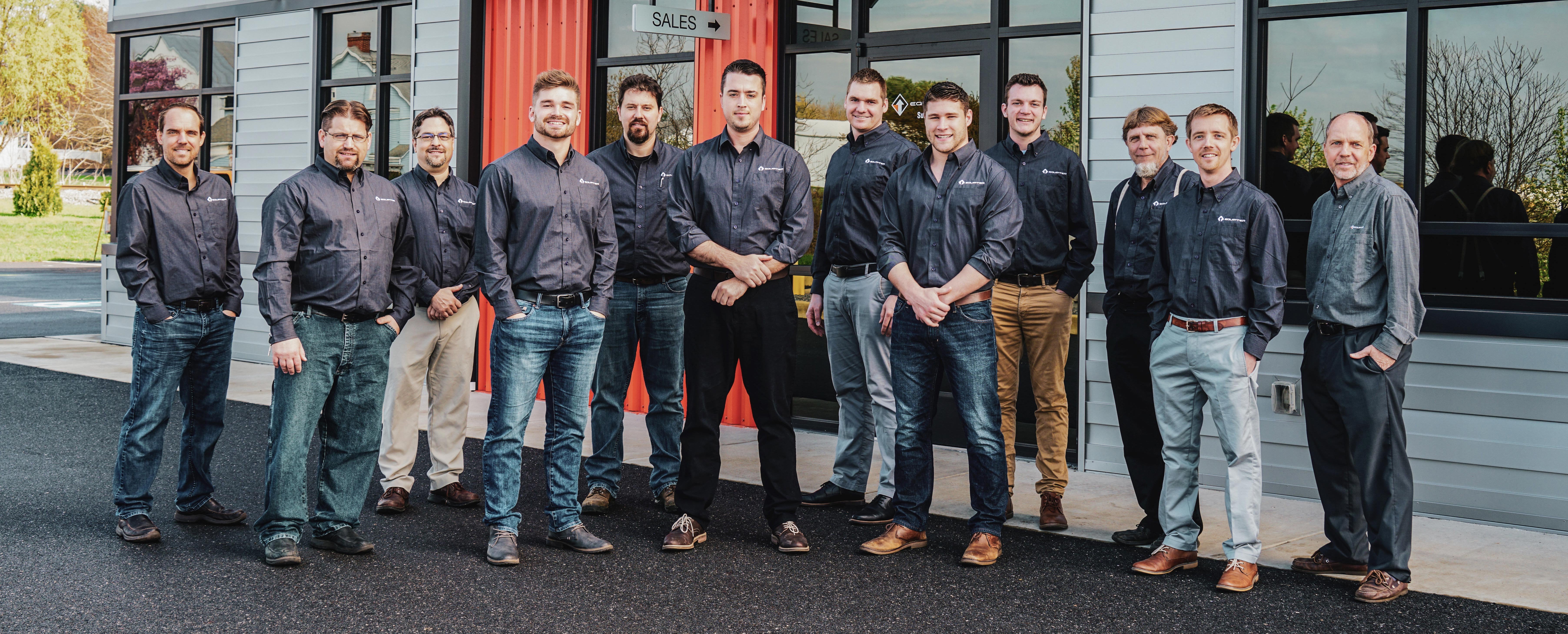 THE EQUIPTER STORY
Aaron Beiler, Founder and President of Equipter, owned and operated a successful family-run roofing replacement business for 15 years. He and his sons worked hard, but like an entrepreneur in any industry, Aaron began to think, "Why don't we work smarter rather than harder?" The family knew that efficient debris removal would make a significant difference in how quickly and effectively roofing jobs could be finished.
Since no equipment existed to manage debris to the level they envisioned, the Beilers sketched their own ideas for a tool that would perform to their expectations. The Equipter 4000 lift, previously known as the Roofer's Buggy and RB4000, was born.
Debris Management Solutions: Changing the Way Roofers Work
The first few units were used exclusively by the family's roofing business, and it didn't take long to recognize the difference. The innovative roofing equipment was taking the company's productivity, profitability, and professionalism to new heights.
Equipter now provides roofing companies and other contractors with the Equipter 4000 and other revolutionary equipment, better time-saving tools they need to run more successful businesses. All Equipter products boast American-made components and are manufactured in the heart of Lancaster County, PA, an area known for its solid work ethic and old-world values.
Putting Values to Work for Clients, Partners, & Employees
The values of Equipter aren't just words to be posted on an office wall or website—they're the guiding force behind everything its employees do.
INNOVATION
Innovation drives us. That's been true since day one. Equipter began with a vision for a new way to work, one that would revolutionize debris management.
RELATIONSHIPS
Relationships guide us. The Equipter team works hard to build long-term relationships based on respect and mutual trust. We enjoy personal relationships with our customers and business partners. That focus on relationships doesn't stop with customers and partners—it extends to our employees, too.
Our company and other team members are actively involved in the community, sharing time and resources with projects based in Lancaster and across the globe. The Equipter team currently works with a refugee program that helps displaced people build a life of promise in America. We've hired program participants, providing them with the job training they need to become valued Equipter team members able to provide for their own families and work toward new lives.
EXCELLENCE
Excellence sustains us. We understand firsthand that contractors need equipment as tough as their crews. That's why we stand by every Equipter product, engineered to withstand daily wear-and-tear on the job site. It's no surprise that the original drivable dumpsters by Equipter are still in service today.
Our team continues its commitment to providing quality service before, during, and after the sale of every product. Whether you're a roofer in Lancaster, Pennsylvania, or a landscaper in Seattle, Washington, Equipter is by your side with the tools you need to build a healthier bottom line.