If you're a roofer working in an area that's recently been hit by a hurricane, tornado, or intense storm, you know what it's like to work with the bare necessities–and sometimes without electricity.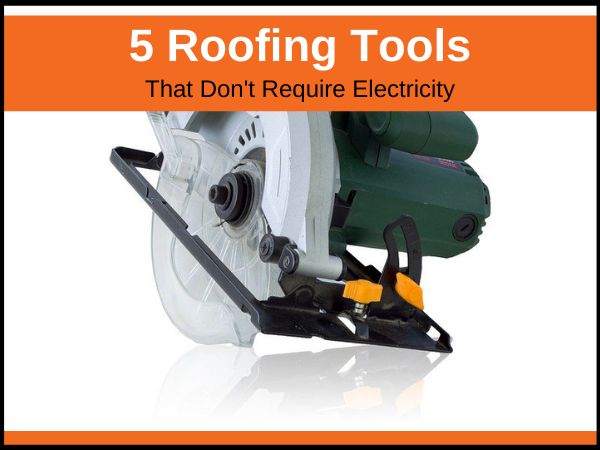 A lack of power on the job can slow down job completion and wear out your crew fast. This post explores roofing tools that don't need electricity and that you should have on hand to ensure efficiency while working during a power outage.
1. Cordless or Pneumatic Nailer
Cordless and pneumatic nail guns are both still dependable even when roofing without electricity. In fact, you most likely already have one of these in your truck that you use daily.
You might be wondering how you'll power a cordless nailer without electricity. Did you know you can buy an outlet for your truck and charge the battery from there? A more efficient option that can help minimize downtime is to bring multiple fully charged batteries to the job with you.
Not sure whether to use a cordless or pneumatic nailer? Here are some pros and cons:
Cordless Nailer
Pros:
No wires getting in your way
Don't need to tote around a heavy air compressor
Cons:
Less powerful than pneumatic nailers
Heavier than pneumatic nailer
Pneumatic Nailer
Pros:
Cons:
Need to drag compressor and cords wherever you go
Not all are ideal for roofing projects (be sure to do your research)
Keep in mind that the type of roofing nailer your purchase can make a difference in your efficiency level. A coil nailer holds more nails than a stick nailer, making it a good nailer to use for roofing. Check into whether this nailer would be the right fit for your crew–it could mean less climbing up and down a ladder to refill.
2. Gas-Powered Compressor
If you're working with pneumatic nail guns, you're going to need a source of air. If you can't use an electric-powered air compressor, this is where a gas-powered compressor comes into play.
When looking into compressor options, make sure you research what kind of material you want the air hose to be made of. For example, polyurethane performs better in cold weather while PVC does better in warm temperatures.
Air hose length is also important when using a compressor. Ensure that you're getting the right size for your projects, whether that means getting a 50-foot hose or a 100-foot hose.
Determine what you and your crew prefer and get set up to do nailing with tools that don't need electricity.
3. Tear-Off Shovel
Tear-off shovels are an essential when it comes to roofing with or without electricity. However, when things are already slowed down by the inconvenience of no electricity, a tear-off shovel is more essential than ever.
A tear-off shovel will both increase the speed of completion and ensure that your workers experience less physical wear-and-tear. Check out this resource to help you find the best tear-off shovels and how to choose the right ones for your crew.
4. Battery-Powered Circular Saws
Circular saws are often a part of roofing jobs, but electric saws are not an option during a power outage. In this case, battery-powered circular saws are an excellent go-to.
As mentioned before, to charge the batteries, simply buy an outlet for your roofing truck, invest in a generator, or bring enough batteries to keep going all day.
5. Equipter RB4000 and Rear Extension Kit
A power outage quickly makes a job stretch out longer than it should. Save lost time by using an Equipter RB4000 on the job. This self-propelled dump trailer not only serves as a way to manage a more efficient cleanup process; it also doubles as a material lift, taking the place of an on-site ladder hoist. It can lift tools and materials up to 12 feet, and the optional Rear Extension Kit can help catch tear-off debris falling from an even higher distance.
Once lifted, roofers can push the roofing debris directly into the Equipter's container and, since it's self-propelled, it only takes one person to drive it to the onsite dumpster and dump the debris.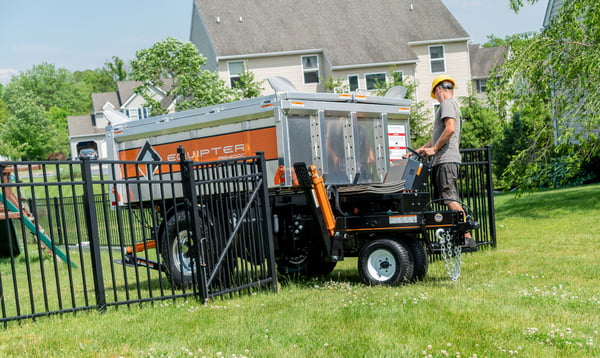 This innovative dump trailer saves time by cutting out multi-handling debris and reducing the physical stress on the crew. It's easy to rent, too. Equipter's third-party rental database has over 200 US and Canadian locations. Click the button below to find the closest to you now.
Other Roofing Tools
There are a few other roofing tools available that don't require electricity and may come in handy on your next roofing job, especially during a power outage. Double-check your tool supply before you head to the job tomorrow and make sure these tools are also part of your resources:
Roofing hammer
Rolling magnet
Pry bar
We at Equipter thank all the roofing contractors who are helping those whose homes have been damaged due to hurricanes, tornadoes, and other natural disasters. We want you to know that you are needed and appreciated, and that's why our goal is to provide you with the right equipment to help even more people during their times of need. Thank you for all you do.