Maybe just thinking about getting a roofing license to start your roofing company is giving you a headache. With all the requirements and brainwork that go into starting a business, we understand the headache.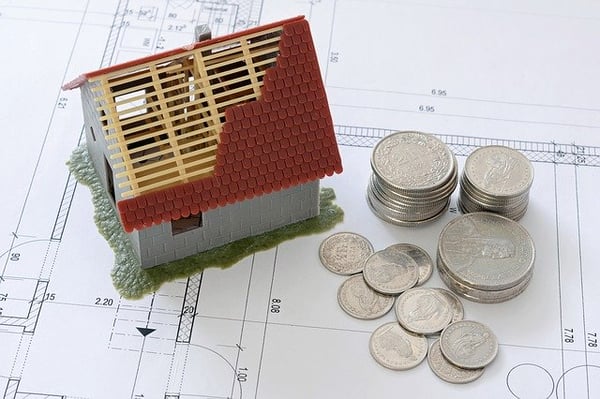 The goal of this article is to help eliminate some of the hassles, break down the requirements into simple steps, and help you understand how to get a roofing license.
Who needs a roofing license?
Most states require roofing contractors to get a license in order to start a business. However, this requirement often depends on several factors:
Type of work
The type of work you do may play a large part in whether you need a roofing license in your state. For example, a license may be required for commercial roofing but not for residential projects. Although some states don't require a roofing license, if you're listed as a home improvement company, you need a home improvement license.
The type of roofing license you need will also depend on the work you do. Commercial contractors and residential contractors often need separate licenses, but if your roofing company specializes in both commercial and residential, you can also find a license that covers both.
Size of project
The size of the projects you do may also influence whether you need to get a roofing license. For example, a small project of $5,000 may not require a license in some states, but you may need a roofing license if you're performing a job of $25,000 or more (these numbers may vary depending on the state you work in).
Work with asbestos
Asbestos is a highly toxic product that has been used in the construction industry for years. Its dust can cause lung cancer, mesothelioma, asbestosis, and other health issues. The quantities in which asbestos is used have decreased, but roofers may still come in contact with it.
Because of the product's health risks, those working with asbestos are often required to be licensed. This ensures that they're not blindly walking into a health-threatening situation.
Below is a list of states that do not generally require a state-level roofing license: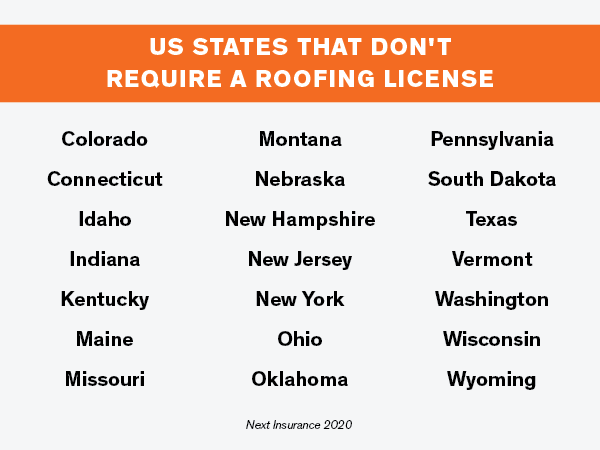 Keep in mind that this list has exceptions. Some of these states do require licenses for those working with asbestos. In addition, although the state may not require a license, a license may be needed at a local level. Make sure you do your homework with what your local municipalities require.
Why do you need a roofing license?
One of the most important–and most obvious–reasons to get a roofing license is for legality. Fines and jail time could become a reality if you don't comply with state requirements, damaging your roofing company's reputation.
Homeowners may ask you if you have a license. Because getting a roofing license requires experience, having a license gives the homeowner the assurance that you have the training and expertise needed to do their project well.
Getting a roofing license often means you need to have liability insurance. Not only does this protect you, but your customers will also appreciate knowing that any damage to the job will be covered by you.
A roofing license will give both you and the homeowner peace of mind. You will be working legally and within government requirements. Your customers will trust you and be more likely to hire you with the assurance that you know your industry.
Here's how to get a roofing license.
The process for getting a roofing license varies from state to state. This section outlines the general requirements that need to be fulfilled to get a roofing license in most states.
1. Get the experience/training
Getting a roofing license generally requires that you have a certain amount of experience in the industry. The experience can be acquired as a journeyman or foreman on a crew, depending on requirements in your area.
In some states, training is required in addition to experience. The amount of training varies between states and can often be done in person or online.
2. Have insurance in place
There are several different insurances that you may need to have in place before getting a roofing license. These can vary depending on the area or state you work in.
Liability insurance is commonly required and is also something that comforts homeowners. Workers' compensation may also be needed (unless you hire subcontractors rather than employees).
3. Take the exam
Exams are often a necessity to test your expertise in the roofing industry and get you a roofing license. This may include an exam ensuring your experience in roofing and/or a business and law exam. The exam and the method it's taken depend on your local or state requirements.
As always, exams may require you to do some studying. Licensing agencies typically supply you with the resources needed to pass the exam(s). There are also in-person and online educational classes available to help you prepare for the exam.
4. Continue your education
Some states may require that you continue your education in roofing throughout the years you have your business. This ensures that you're keeping up with new regulations, etc., in the roofing industry.
License renewals are required for contractors, so don't forget to look into the regulations for that in your area!
For detailed information and resources on your specific state's requirements, check out Next Insurance's webpage on roofing license requirements by state to make obtaining your roofing license easier.
We at Equipter are here to help. None of the above should be taken as legal advice. It's essential to follow the rules and regulations set in place by your state of business and any area in which your team will be replacing or repairing a roof. For more information on helpful tools from hand tools to handy roofing apps, see our Roofing Tools page.