At the 2023 IRE Show in Dallas, Equipter presented the concept for a new product line: a unit that shares the capabilities of all-terrain forklifts, pallet jacks, piggyback forklifts, and telehandlers with Equipter's unparalleled transportation technology that enables the unit to be transported without the need for a trailer. This is the Patent Pending Equipter Tow-A-Lift.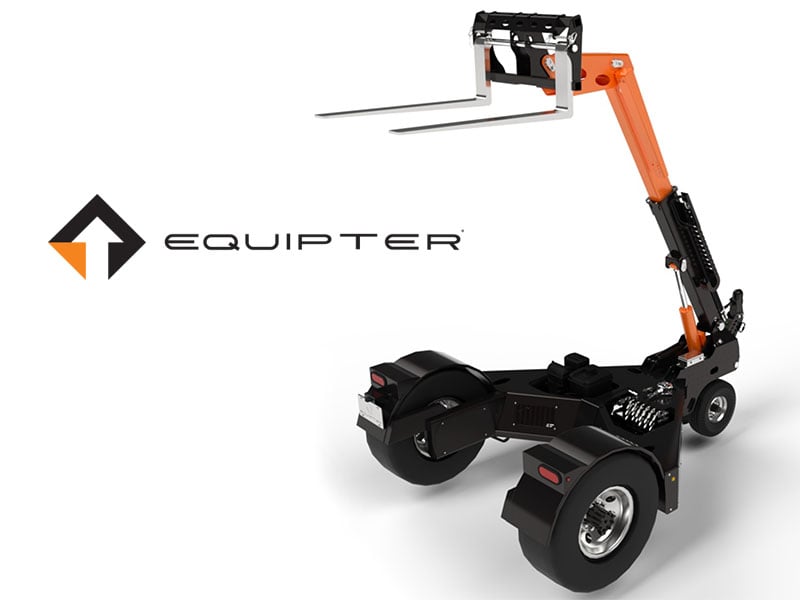 * product rendering of the Equipter Tow-A-Lift

The unique design of the Tow-A-Lift addresses inherent problems with comparable pieces of equipment. An all-terrain forklift is designed to operate in rugged outdoor environments where traditional forklifts would not be feasible. However, they have limited maneuverability and will not handle in tight spaces or indoor environments as well as traditional forklifts. The Tow-A-Lift is compact and highly maneuverable and turns similarly to a skid loader. A pallet jack is a cost-effective piece of material handling equipment but struggles on uneven surfaces or in outdoor environments. The Tow-A-Lift shares the Equipter 4000's 34" rear tires, enabling it to handle uneven ground while also dispersing the unit's weight to maintain manicured landscaping. Unlike rough terrain forklifts and pallet jacks, the Tow-A-Lift's boom is comparable to a telehandler's range of movement and is slated to have a 4,000 pound lift capacity.

The Tow-A-Lift will have a sub-3,000 pound GVRW. The Tow-A-Lift can be easily transported with a pick-up truck or large SUV with a ball hitch. With a tare weight this low, it can also be towed by mid-sized SUVs and even some minivans. No trailers or specialized vehicles are needed to transport the Tow-A-Lift. The ease of towing the unit makes moving it from jobsite to jobsite a breeze. Once the Tow-A-Lift is on the jobsite, it is operated by remote control. This innovative design improves safety and removes blindspots from the operator's vantage point.

More information about the Tow-A-Lift, including release date, will be announced soon. All-terrain forklifts and similar pieces of equipment are currently experiencing long lead times and so Equipter expects interest in the Tow-A-Lift to be high. To get the latest updates on the Tow-A-Lift as they becomes available, please fill out the form below.


Tow-A-Lift Product Updates