'Tis the season for roofing home shows. If you own or manage a roofing replacement or contracting business, you know these events can be an effective way to showcase your services and attract prospects. But there's more to home show success than tossing brochures onto a table.
Check out these do's and don'ts for making home shows profitable.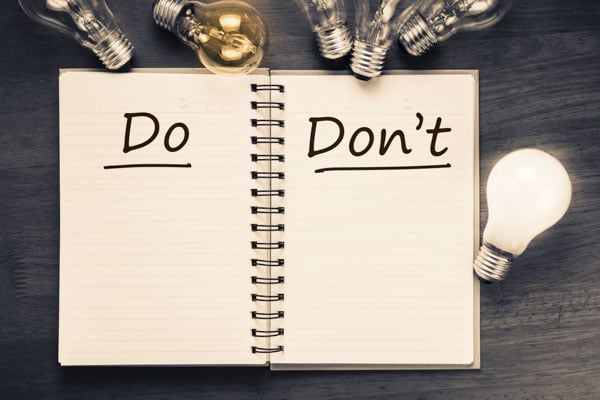 Do use visuals.
Quality visuals make a big impact when it comes to attracting home show attendees into your booth. Consider using professionally-produced banners and displays at your next roofing home show to grab attention and make homeowners curious about your services. Large-screen video displays also draw attention, particularly when the video highlights your roofing crew's professionalism and tidiness on the job.
Do think BIG.
In addition to incorporating visuals, make a big impression by displaying roofing equipment, like the Equipter RB4000. Adding an RB4000 to the booth helps attendees easily understand how your business streamlines clean-up and protects the homeowner's property. What's more, it sets you apart from roofing replacement vendors who operate with traditional, messier roofing equipment.
Do bring the energy—and maintain it.
From standing for long hours on concrete floors to repeating the same pitch over and over, working a home show can be a drag, especially during those last few hours when traffic tends to dwindle. Work to stay energized throughout so you can make a positive impression on homeowners no matter when they visit your booth.
Don't scare prospects away with hard and heavy sales pitches.
Home show attendees want to improve their properties—so there's no reason to frighten them off with an intense sales pitch the second they're within shouting distance. Keep introductions brief, and make sure employees working the booth are comfortable having friendly, solution-oriented conversations with homeowners.
Don't send them off empty-handed.
Attendees will walk by dozens or hundreds of booths within the course of a few hours. Don't let your roofing business get lost in the shuffle! It's essential to offer prospects something relevant and tangible with your company name and contact information on it. It can be as simple as a business card or brochure, but you might also consider branded freebies, like pens, rulers, or other promo materials—perhaps a reusable shopping bag so they can easily carry all the other fun marketing swag and pamphlets they receive at the show.
Don't forget to create a strategy for converting prospects to sales.
If you want success at home shows, this is one of the most important tips! Before the show starts, build a strategy that outlines everything from how you'll capture leads to how you'll follow up.
Do you have tips for making roofing home shows' attendance a success for roofing or contracting businesses? Let us know! Join the conversation with Equipter on Facebook.