Roofing after rain can be a challenge. With record-high precipitation rates across the US, roofers are scrambling to complete projects on time.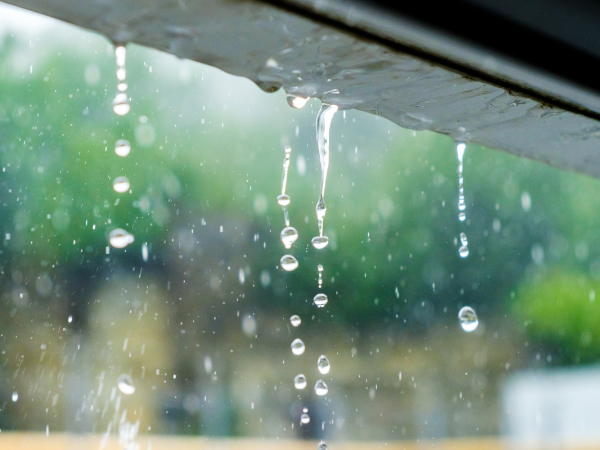 Stop rainy weather conditions from putting a damper on roof installation.
The rust-resistant Equipter RB4000 can help you get caught up on contract deadlines, boosting your company's bottom line.
Work Smarter: Improve Efficiency
Production doesn't start as soon as you step on the job. It starts when the right tools and materials are accessible and ready for use. Carrying all the necessities across the job site and up to the roof takes a toll on your workers first thing in the morning.
The RB4000 helps save your crew energy otherwise used hauling tools and materials across the job site throughout the day. It also decreases the stress of cleanup, so your crew doesn't feel overworked by week's end.
Work Safer: Reduce At-Work Injuries
Climbing up and down a wet ladder increases the risk of injury on the job. You're not looking to lose manpower, gain workers comp claims, or battle lawsuits—you're looking to get the job done.
Keep your crew members safe. Reduce the risk of ladder-related injuries by saving trips across the job site with the easy-to-use, self-propelled Equipter RB4000.
Work Faster: Increase Production
Carting materials across the job site throughout the day also cuts into production time. Many roofing contractors use the Equipter RB4000 to transport their tools and materials effortlessly in a more timely manner. With a 12-foot lift capacity, the RB4000 can rise above the edge of the average two-story residential roof, and the hydraulic tailgate opens so your crew can easily grab their tools. This cuts preparation time and increases production time!
Trying to install a roof in between raindrops only adds more pressure on your crew, which can seriously damage morale and performance. They rush through tear-off with less concern about your customer's property, letting roofing nails and other harmful debris fall all over the lawn or landscape.
When the ground is soft from rain or melting snow, harmful debris is more easily embedded into the soil if trampled on by your construction workers' hefty boots. This puts your customer, their kids, and even their pets at risk of injury as a result of poor cleanup.
When you're trying to beat the rain, you can't afford time-consuming cleanup at each day's end. But with a lightweight portable dump trailer, your team can drastically cut cleanup time so you and your crew don't get stuck in the rain. With the Equipter RB4000, cleanup is a simple one-man job. Just navigate the loaded trailer across the job site, let down the hydraulic tailgate, and watch the old shingles, tar paper, nails, and other debris slide right into the on-site dumpster or dump truck.
From start to finish, the Equipter RB4000 has the power to increase your production by an average of 25 percent.
A Roofers Buggy Designed for Roofing After Rain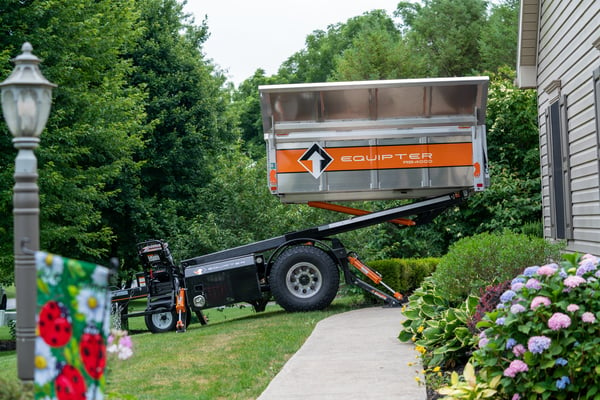 Tearing off a roof after a rainstorm? The Equipter RB4000 was designed using advanced technology and lightweight materials so there's less pressure on your customer's lawn. Wide tires ensure the weight of the construction trailer and its contents are more evenly distributed to prevent damage to wet ground. Equipter Track Mats make it even easier to transport the roofing buggy across your customer's property without leaving ruts or tracks after it rains. If you're forced to battle with transporting tools and materials across soft or wet ground, these accessories can help protect your customer's property.
Test the RB4000 Before You Buy
Whether you're a roofing business owner, crew manager, or subcontractor, the Equipter RB4000 will revolutionize the way you do business. If you're new to the Equipter family, we offer a $75 Manufacturer's Rebate when you rent your first RB4000.
Don't suffer from wet season setbacks. Start compensating for lost time today. Contact us to find the closest Equipter rental location near you.