Equipter Founder and President Aaron Beiler recently shared his beliefs on a roofing company's greatest asset–its employees.
As former owner of a roofing company himself, Aaron gained over 15 years of experience in the industry prior to founding Equipter, LLC.
What are the qualities to look for in a reputable roofer?
When hiring a roofer for your company's crew, it's essential to look for qualities beyond skill. "Moral excellence," Aaron states, "is the quality of doing what is right and avoiding what is wrong."
According to Aaron, your company should build your crews with roofers who possess the following qualities:
Honesty
Integrity
Hardworking
Why? Your roofing crew members are the face of your company, says Aaron. Your customers see the laborers more than they see the owner or sales rep, so it's essential that your hardworking team players maintain best practices in their work and during customer interactions. Homeowners want to know that their jobs are being completed by good, honest men and women.
What are some red flags in roofing candidates?
In addition to the positives, Aaron encourages companies to keep these negative qualities in mind when filtering through candidates for your roofing company:
Dishonesty
Ignorance (e.g., ignoring property damage that may occur during the job)
Indifference towards customer concerns
One way to gauge a candidate's integrity when you're interviewing potential roofers to add to your growing roofing business is by asking them how they'd handle a specific situation. For example, what would the roofer do if a window screen were to rip and the window crack or break during tear-off? A worthy applicant would answer by saying they'd let the homeowner and their supervisor know in order for the company to remedy the situation. A red flag would be if the applicant responds saying that it would be up to the homeowner or foreman to notice and report it.
How do you attract the best workers?
"The core value of a roofing company is not in its accumulation of buildings, vehicles, and other material assets," Aaron explains, "but rather the company's ability to retain quality crews."
But how does a company achieve that value?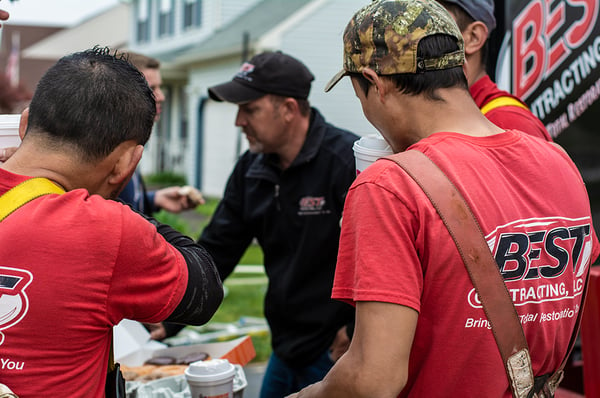 By living out what it's looking for in its workers. The qualities that you value should be present in all of your employees.
If you instruct or allow your employees to stretch the truth when working with customers, they're more likely to lie to you. But when you encourage your employees and crews to be transparent and honest with your customers, they'll be more inclined to act the same towards you.
"The crews need to know that's who you are and that's what you stand for. They need to know that it's important to you. If they don't see that in the key people in your company, they're less likely to apply," says Aaron. "Roofing contractors who will succeed will be those able to build their company around their crews known for honesty, integrity, and willingness to put in hard work."
Want more roofing insight and resources from Equipter delivered straight to your inbox? Sign up below for Equipter's No Mess News, the monthly newsletter for all things roofing!