Colder temps might cool business, especially in northern sections of the U.S., but you can still take action to increase profits during winter downtime. Learn 5 ways to take advantage of winter downtime in your roofing or contracting business so you're ready to take on spring like a lion:
1. Create or refresh the marketing strategy.
Think of marketing strategy as the road map that helps you boost sales and build a competitive advantage. Already have a marketing strategy? If you can't remember what it is or haven't looked at it in more than a couple of months, dust it off for a review.
Get inspiration for your new or rebooted strategy by checking out Inc.'s 15 Marketing Strategies That Inspire Strategic Thinkers. Additional strategy-building tactics include:
Define or update your ideal customer profile.
Check out what your contracting or roofing competition's been doing over the last year. What's worked for them? What hasn't?
Review printed marketing materials. Do they reflect your current services? Are all pieces consistent in look and message, i.e. are you using the same logo or company name on all of them? Are there typos or is wording unclear?
Review your online marketing presence, including the company website and social media pages/profiles. Do they convey a professional image? Do they make potential customers say, "I want to hire these folks!"
Refresh your digital advertising strategy. If your ads aren't producing profitable ROI or you can't devote as much time to the campaigns as they deserve, now's the time to reassess. Tools like Boostpoint, a digital ad solution from Equipter, can save time and money on advertising through channels like Facebook and Instagram.
2. Define a sales plan.
Construction or roofing offseason is also a great time to define sales targets and tactics for your business. Sales plans can cover the overall business or they can include individual plans for each salesperson. Here are a few first steps for creating your sales plan:
Set reachable monthly, quarterly, and yearly goals.
Define specific, measurable actions that will help you or your salespeople reach those goals. (We'll make X contacts per month, or We'll reach out within one week to all homeowners who shared contact info with us at the home show.)
3. Take your contracting equipment to the next level.
The cold weather dip is a good time to inventory roofing and construction equipment to assess whether those investments are helping or hurting your business. Evaluate compressors, hydraulic dump trailers, etc., to determine if they need repair or replacement so your crew can get the job done without hassle when business picks back up.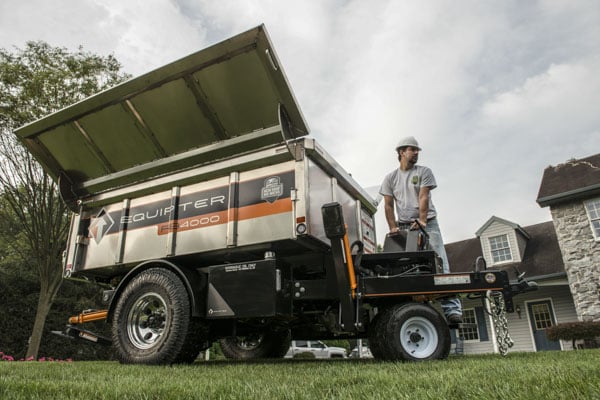 Consider new equipment investments, too. For example, replace that standard dump trailer with the Equipter RB4000, a self-propelled trailer that lifts up to 12' high. Use it to control debris, increase production by 25%, save wear-and-tear on your crew, and make homeowners happier.
Or how much more efficient would projects be if the crew used a small, self-propelled crane onsite for easily lifting HVAC units or preformed home features? Learn more by checking out our towable, drivable CR8000.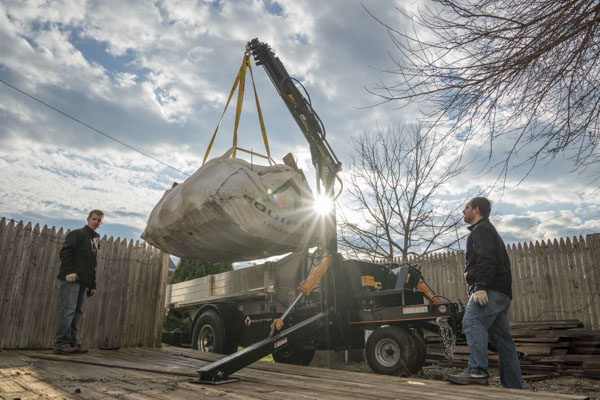 4. Pick a time-consuming task and streamline it.
Whether it's asking customers to give reviews or struggling to stay on top of weekly payroll, every business owner has that one task that feels like a long, hard slog. Now's the time to find a solution to that pain. Here are some ideas:
Outsource tasks like payroll or accounting.

Automate regular to-dos like sending emails asking for customer reviews.

Hire a freelancer to tackle jobs like blog writing or social media posting.

Set up auto payments for your bills, or pay small bills for several months in advance to save time in accounts payable.
5. Get a jump on tax filings.
When the weather breaks and the phone starts ringing, the last thing you want to do is get stuck dealing with filing taxes. Use downtime to print reports, find receipts, and fill out forms related to your construction or roofing business, so you can better focus on customers when jobs pick back up.
If you bought an RB4000 or other roofing equipment, talk with your accountant about the Section 179 tax break, which lets you deduct up to $1 million on qualifying equipment purchases.
Stay up to date on tips to help your roofing business or contracting company maximize profits this year. Join the conversation on the Equipter Facebook Page, follow us on Twitter, or bookmark our Roofing and Contracting Blog.
This blog entry was originally published in January 2016 and was updated January 2019.