The Equipter 4000 is well known for being able to lift its 4.1 cubic yard box, catch debris, and then dump its contents. Every trade show season, there are people who are surprised to learn about two of the Equipter's other primary features that puts it into its own class: the Equipter's ability to be towed and the Equipter's ability to drive under its own power. This article will explain what a self-propelled and towable trailer means for your jobsite in real world terms.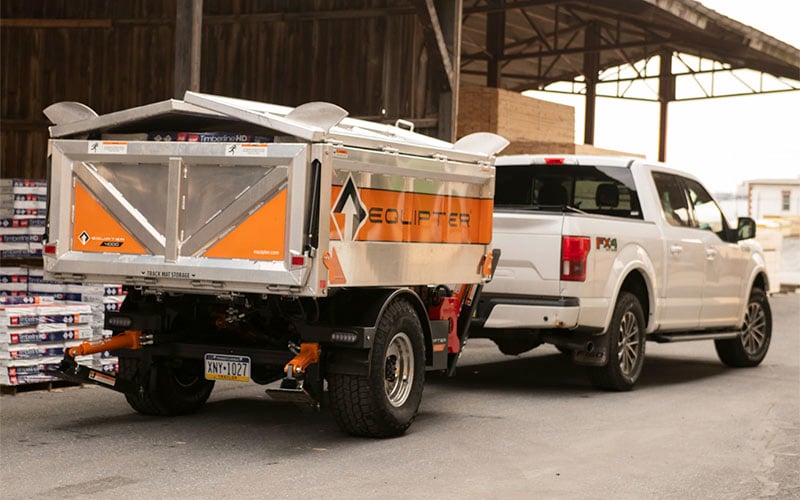 The Equipter 4000, Equipter 3300, and Equipter 5400 can all be towed behind a vehicle using a ball hitch, no trailer or additional equipment is necessary. Simply connect the hitch to the hitch receiver, disengage the drive axle, connect the Equipter's RV plug, attach the chains, and you are ready to go. An Equipter can be delivered to a jobsite with one vehicle and leave the site towed behind another. This simple connectivity also makes renting the Equipter possible for crews that use many types of vehicles. The Equipter can be towed like any other trailer, both in the city and on the highway. The Equipter's towability can be compared to a towable generator or towable air compressor which are equipped with wheels and a tow bar. The difference is that once the Equipter's drive axle is engaged, it is self-propelled and can move around a jobsite under its own power.

Every self-propelled trailer from Equipter can be driven around a jobsite. The Equipter 4000's tight turning radius allows it to navigate tricky jobsites while its big wheels and weight distribution reduce landscaping and property damage. There are many examples of self-propelled construction equipment on the market, from skid loaders to bulldozers to pavers, but the Equipter's design allows it to operate without damaging its surroundings. Each of these other self-propelled pieces of equipment require a trailer to move them on and off of the jobsite. The Equipter 4000 is unique in that it is self-propelled and towable equipment. When you are ready to move the Equipter, all you need to do is reconnect it to your vehicle.

The Equipter is in high demand during this time of the year. To find an Equipter rental near you, you can view our rental map with over 300 rental locations across the United States and Canada. To talk to our sales team about how the Equipter can benefit your company, please reach out to us.