When our team at Equipter started designing the Equipter RB4000, our first and foremost goal was to create the perfect-size machine. We wanted to create a machine that contained a number of features, yet remained light enough so homeowners would never know that the equipment was even in their yards.
After much thought and consideration, we created a self-propelled dump trailer that is not only extremely versatile and tough, but also lightweight. We can now confidently assure you that the Equipter RB4000 is easy on your homeowners' lawns. We know that many people are concerned about whether the RB4000 leaves tracks in the lawns, but we've provided information below that can lay your fears to rest.
Customers' Feedback
We asked Dean what his experience with the RB4000 has been and he replied, "It's really easy with a piece of equipment like this to drive on yards. With the big tires it floats right over the grass like you'd be driving your lawnmower."
We understand that as a business owner you may be concerned about the Equipter RB4000 leaving tracks in lawns. Here at Equipter, we make customer satisfaction our highest priority and we're here to answer your concerns.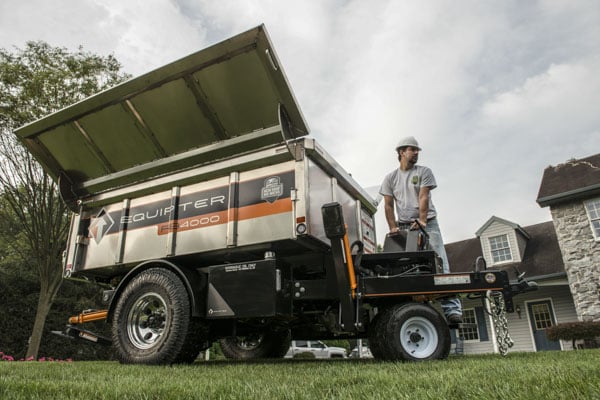 " When you're in normal conditions, we've never had a homeowner concerned about the Equipter in their yard" (Chuck Magee, Owner of Roof Crafters LLC).
Optional Accessories
Recently, we asked one of our customers located in a rainy climate what his experience has been with the Equipter RB4000 concerning his customers' lawns.
"We had an 11-inch rain over the weekend and the yards are a mess. You can't put a conventional trailer in a yard right now, but you can put the Equipter in the yard with the oversized tires and the pads," says Chuck Magee owner of Roofcrafters LLC. Even in wet conditions, it's still possible to get in there and get the job done with the RB4000 without damaging your homeowner's lawn.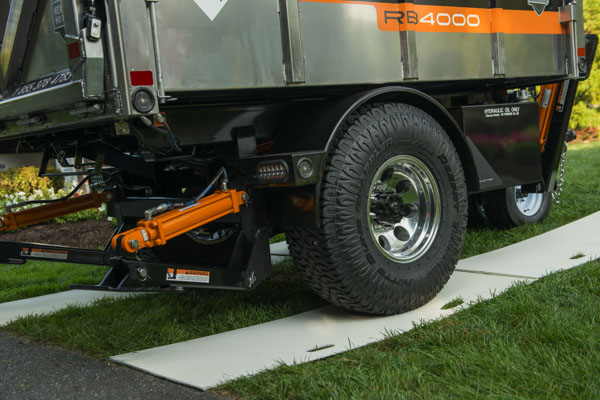 With the use of our track mats, you can drive the RB4000 on nearly any type of lawn. "I can honestly tell every homeowner that raises that concern with me that within 4 ½ years of using the Equipter day in and day out, we've never damaged a lawn," explains Aaron Nelson, Co-Owner of Nelson Contracting.
Quality Build
With our customers' satisfaction at highest priority, we set out to find the perfect tire for the Equipter RB4000. What we found was a rugged tire with a wide 10-inch tread, which allows the Equipter to seemingly float across the yard since the wide tread reduces the pressure from pound per square inch. When we set out to manufacture the RB4000, we concluded to use only the best material available, even down to the tires. In order to succeed in the roofing industry today, you've got to be at the top of the line. That's why we're here. Equipter is here to help you create an awesome customer experience and get amazing feedback for your business.
Click the button below try the Equipter RB4000 today.