One way to describe the Equipter RB4000 is as a self-propelled trailer. The Equipter's drivability is one of its key and most unique features. This breakthrough ability has opened so many doors of usefulness for the Equipter RB4000.
Along with this ability, the concern arises as to whether the Equipter RB4000 will leave ruts or lasting imprints in a customer's lawn.
This is something we took into consideration in the development stage of the Equipter RB4000. Our own roofing experience is really what enabled us to come up with the best design to address this issue. The following features are what make the Equipter RB4000 a great fit for any roof replacement project with a lot of lawn coverage.
Lightweight Self Propelled Trailer
When designing the Equipter RB4000, the first thing we tried to define was the "perfect size." We wanted it to have enough capacity to keep performance efficient, but also light enough so we could use it on a normal residential lawn. We finally decided on a size that was a 4 cubic yard and 4,000 pound capacity, which brought the total weight of the RB4000 itself to 4,020 pounds.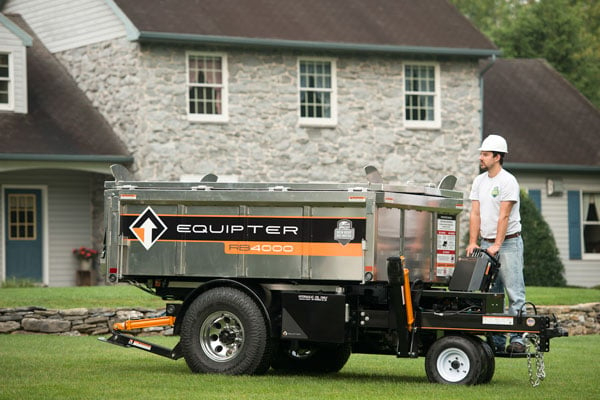 Wide Tires
We searched high and wide for the right tires for the Equipter RB4000. What we found was a rugged tire with the weight capacity we needed and a wide 10" tread. This wide tread maximizes flotation and minimizes the pounds per square inch.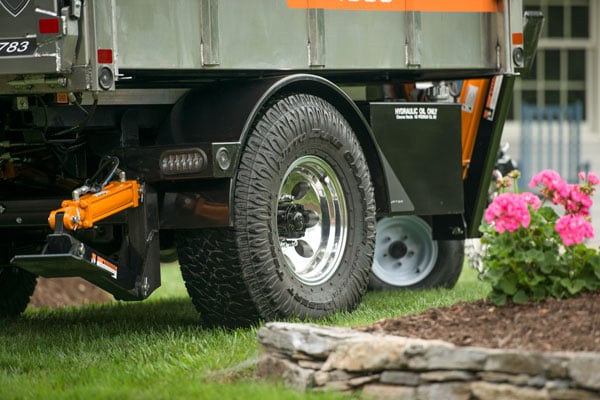 Track Mats
For the occasional wet or soft lawn there is an accessory for the Equipter called the track mat.. This is a 2 x 6 foot mat that the Equipter can drive onto, which disperses its weight even more. These mats can also be conveniently stored underneath the Equipter's container. This type of mat makes it possible to drive the Equipter onto nearly any type of lawn.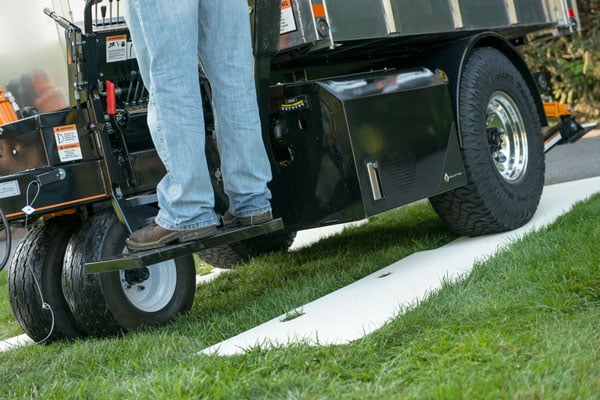 Are you ready to treat your crew to the Equipter RB4000? Get the lightweight, self-propelled dump trailer with the accessories that best fit your company's needs by clicking the button below.