Innovative Construction Equipment and Tools for General Construction Companies
Creating success is a culmination of top quality customer service, unbeatable craftsmanship, and effective business management. When innovative construction equipment rolls onto the scene, it's easy to achieve all three of these characteristics for your own construction company.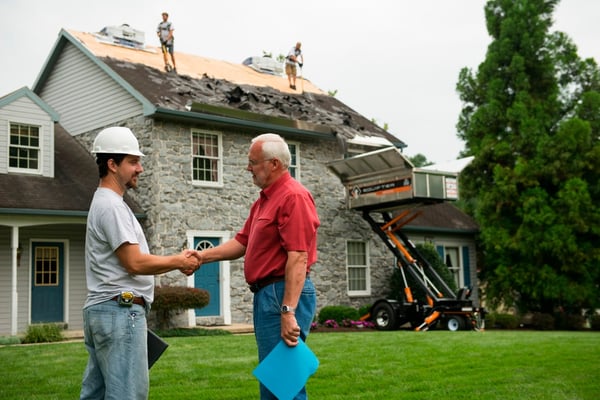 Why Invest in Equipter Tools?
Innovation drives us. We've spent over 15 years designing and improving innovative debris management equipment for hardworking industry pros like you. As former roofers, we understand the pain and inconvenience of time-consuming debris handling on top of daily production and business management.
Our goal is to help you gain even more control over every aspect of your business.
Work Smarter
Whether you're framing a two-story house or remodeling a bathroom, Equipter construction equipment is designed to make your crew's job easier. Escape the hassles of hauling heavy equipment and materials across the job. Work smarter with industrial construction equipment designed to do the job for you.
Outpace Competitors
Combat labor shortage and employee retention challenges. Equipter's general construction equipment speeds up daily setup, production, and cleanup so you can finish each job and move on to the next customer faster.
Achieve Success
From roofing to general construction, Equipter's American-made tools redefine business success. Customers appreciate durable, high-quality craftsmanship. Equipter construction equipment adds even more value to their experience, boosting your efficiency and helping to outperform your competitors, land more positive reviews, and increase word-of-mouth referrals.
Equipter Customers on Homeowners' Responses
Construction Equipment that Does the Job for You
Work smarter with the RB4000 lift. This self-propelled dump container transports up to 4,020 lbs across the job without leaving ruts in the landscape. Its 12-ft lift capacity eliminates hauling drywall and appliances up narrow staircases. The 4.1-cu-yd aluminum container can handle nearly any kind of construction debris. Scratch the time-consuming dirty work and just have one person transport trash to the on-site curbside dumpster.
The Equipter RB2500 dump container is the newest addition to our fleet of construction equipment. This portable dumpster goes places its older brother can't, like narrow alleyways and in between houses too close together for the RB4000 to operate.
Fitting through most standard gates, the self-propelled RB2000 is ideal for backyard construction. Installing a new home addition or deck? Finish the job faster with construction equipment that transports tools and materials for you. Its lightweight container lifts 1,500 lbs of materials up to 7 ft. This multifunctional drivable construction tool also lifts and dumps debris into an on-site dumpster.
Finally, a brake setup system operable by a single person. No more struggling to lift a heavy brake onto saw horses. Get set up in seconds with a gas spring-powered brake storage system that mounts and stores on most standard truck ladder racks.
Equipter's compact mobile crane reaches places conventional cranes just can't. The CR8400 helps you navigate heavy appliances around the job. Lift and lower bulky materials precisely where you need them. With up to a 23-ft reach and compact size, this customizable crane streamlines material handling in general construction, restoration, roofing, HVAC, and more.
Ready to revolutionize your construction business with new high-end construction equipment? Click the button below to explore all Equipter equipment and accessories and start the order process.