Raise Your Rental Equipment Business to the Next Level
Industries Served
Equipter products are utilized in a variety of industries, both residential and commercial. Companies that offer rental equipment to the following industries can benefit from adding Equipter products to their fleets:
Restoration
Roofing
Construction
Landscaping
HVAC
Why Add Equipter Products to Your Equipment Rental Business?
Making products like the self-propelled, lightweight Equipter RB4000 available to your rental customers shows that you not only care about your own business but their businesses as well.
FL. Equipter Rental, LLC
Increased New Business for Your Rental Company
Equipter, LLC maintains a working database of third-party rental companies that offer the RB4000 and other Equipter equipment. When you purchase from Equipter, you have the opportunity to add your rental company to that list.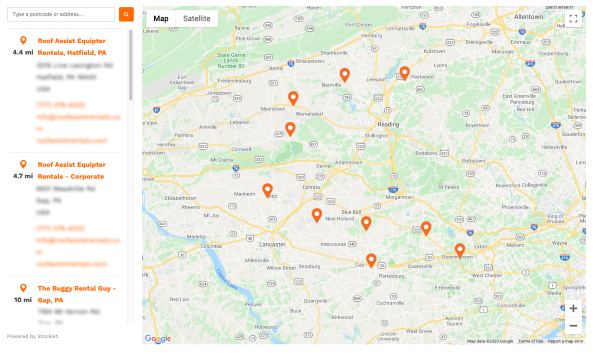 Equipter's Rental Locator tool allows contractors of all industries to search for their closest Equipter provider. This is housed on the Equipter website, offering over 150 locations across the US and Canada. Equipter also runs paid ads over social media, directing potential renters to the Rental Locator. This value-add service helps increase awareness and expand your customer base at no additional charge.
Free Listing for Qualified Equipment Rental Companies
Increase Brand Awareness
Expand Your Rental Company's Customer Base
Land More Repeat Business
Raise Your Bottom Line
Increased Repeat Business for Your Rental Company
Your goal is to provide contractors with well-kept, high-quality equipment that helps them finish jobs faster. Equipter products require little maintenance, and many that were sold in the early 2000s are still on the road today. This reliability adds to each customer's experience with your company, leading to return business and boosting your bottom line.
When a restoration pro learns he can rely on you to supply a better way to manage debris removal from the latest natural disaster, he may return to you for other equipment needs.
Innovative Equipment for Professionals in Manual Labor Industries
Equipter offers a wide array of self-propelled equipment, from towable dump containers to a compact crane, utilized by residential and commercial roofing, construction, and restoration pros alike. See the list below of available products for equipment rental companies:

To purchase Equipter rental equipment for your fleet, contact us at 717-661-3591 or sales@equipter.com, or click below to start building your equipment now.
Looking for an Equipter Rental Near You?
If you're looking for an Equipter rental location, head to our Find A Rental page now to locate the closest RB4000 to you in seconds!