Innovative Restoration Equipment for General Contractors and Restoration Companies
When natural disasters hit, speedy cleanup is essential. That's why you need restoration equipment that elevates your performance.
Why Invest in Equipter Tools for Your Restoration Jobs?
When it feels like you're running against the clock and stressing over getting the job done right, Equipter can help. Originally designed to streamline roofing debris cleanup over 15 years ago, our equipment can also be used by contractors who specialize in the following types of restoration:
Fire restoration
Flood restoration
Home restoration/remodeling
Our goal in making this restoration equipment available is to enhance your professionalism and in turn help you help others.
Sales Rep Shayne Huber on Remodeling with the RB4000
Work Smarter
When it comes to efficiency, not just any equipment will do. You need restoration equipment that works for you. Equipter's self-propelled dump containers do more than just dump. Our unique, innovative equipment helps with removing siding, framework, furniture, flooring, and more from homes and businesses damaged by natural disasters. In addition, it eliminates the stress and dangers of physically hauling these materials across the job to a roll-off dumpster.
Outpace Competitors
Homeowners and business owners are already going through a lot after a natural disaster hits. The last thing they want to hear is that it'll take another two months until their homes and stores are ready to use again. Equipter restoration equipment helps streamline and speed up debris cleanup and material transportation, eliminating the struggles of meeting job deadlines. When you don't have to stress over time management, you can focus on production and complete more jobs in less time.
Equipter's self-propelled dump containers and mobile crane provide the competitive advantage that helps you stay ahead.
Achieve Success
When prospects are impatient to return to their normal lives after structural damage to their home or business, efficiency and safety become major selling points. Equipter products can help you exceed their expectations. Complete jobs faster without sacrificing your reputable high-quality craftsmanship and boost your company's referral rate and close ratio.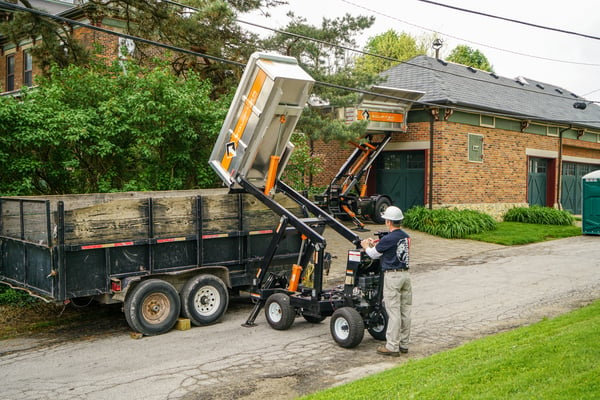 Featured Customer: Kingdom Roofing Systems
Restoration Equipment that Does the Job for You
Equipter's self-propelled equipment streamlines cleanup and production on virtually any job site. All operable by a single person, these units are the ultimate time-savers. Take a closer look at Equipter's restoration equipment for sale below.
The towable RB4000 lift works on residential and commercial restoration jobs. Whether doing a simple bathroom remodel or flood restoration project, contractors rely on the RB4000 for everything from towing tools and materials to the job to effortlessly transporting 4,020 lbs of debris across the site to the closest roll-off dumpster. This 4.1-cu-yd dump trailer raises up to 12 ft to lift drywall and appliances to wherever you need it or catch debris. Many contractors also use the RB4000 for gutting commercial buildings during reconstruction.
Want to try before you buy? Click the button to test Equipter's most popular equipment on your next restoration project.
As the newest addition to our fleet of restoration equipment, the RB2500 can haul up to 2,500 lbs around the job. This self-propelled dump container is less than 4.5 ft wide, making it ideal for work in more compact areas on restoration job sites.
Ideal for use in areas with limited backyard access and narrow alleyways, the self-propelled RB2000 can go where no other self-propelled dumpster dare go before. How? Its total width is less than 3 ft. Whether you're repairing a city home after a fire or transporting heavy materials through a chainlink fence gate, this dump container helps get the job done faster. Its lightweight aluminum container can lift a max of 1,500 lbs up to 7 ft high.
Equipter's self-propelled mobile crane transports materials to areas that conventional cranes can't reach. Whether you're navigating heavy materials around the job or looking for an easy way to haul debris bags out of water-damaged basements, the 23-ft reach of this compact crane takes the weight off your shoulders, getting the job done more efficiently so your customer's family can get back to living their normal life. The CR8400 now comes complete with a radio remote control, letting you monitor heavy equipment placement from nearly any vantage point.
Equipter Restoration Equipment for Sale
The right restoration equipment makes all the difference for your business. Invest in boosting your bottom line with Equipter's high-end equipment and accessories and enhance your professional reputation.
Click the button below to explore all Equipter equipment and accessories and start the order process now.