US Air Force Veteran Alan Burnham serves as Superintendent at the Indiana Veterans Memorial Cemetery. With a passion for showing fellow veterans nothing but respect, he aims to provide the cleanest and most peaceful burial experience possible.
The Trouble with Dump Trucks
Having a large dump container on site gives gravediggers a way to temporarily move dirt in order to keep the site clean during the burial service. But cemetery workers at the Indiana Veterans Memorial Cemetery found a dump truck to be more of a hassle.
No matter how carefully they drove the dump truck, the veterans graveyard workers were unable to avoid leaving marks in the yard and on the graves from the truck's weight. They also found it tough to navigate among the graves, as the dump truck was too wide to fit down the rows. This led to damaged grave markers, which did not sit well with Burnham.
"This is a veterans cemetery–a place of honor–and we want to ensure that we keep everything neat and clean."
The Drivable, Dumpable Solution
Burnham took to the internet to find a better method for their grave management process. It was then he stumbled upon the self-propelled Equipter RB3000.
Here's what influenced Burnham's decision to purchase the RB3000:
Large tires to better distribute the weight of the unit and its contents
Outriggers to stabilize the unit as it dumps dirt back into the grave
Self-propelled drivability and narrow design to maneuver around grave markers and rows and rows of graves
"Within minutes, we were able to operate it efficiently," Burnham notes about the day it arrived. "We took it to the gravesite for our first internment and everything went so smooth and so easy."
The Ultimate Burial Experience
The lightweight container also helps prevent ruts as the unit transports dirt across the graveyard lawn. Once the burial service is complete, the unit easily propels around the site again to dump the displaced dirt back into the grave more efficiently.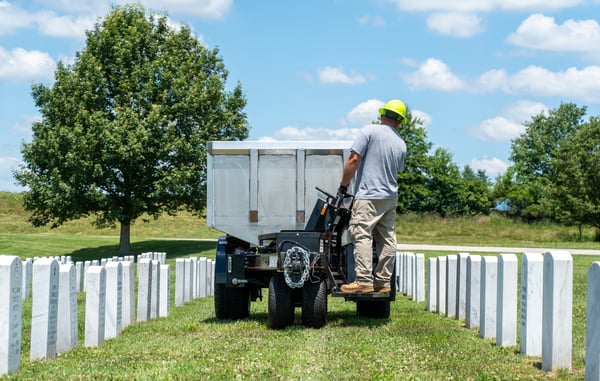 It's not every day you come across a piece of equipment that saves labor costs while speeding up production, but Burnham and his team have found the RB3000 to be a revolutionary piece of equipment that does just that.
"With the labor savings and the money that we have saved up front, we were able to save time and be able to serve more veterans and their families in an honorable and dignified manner."
Click below to learn more about the Equipter RB3000 now.