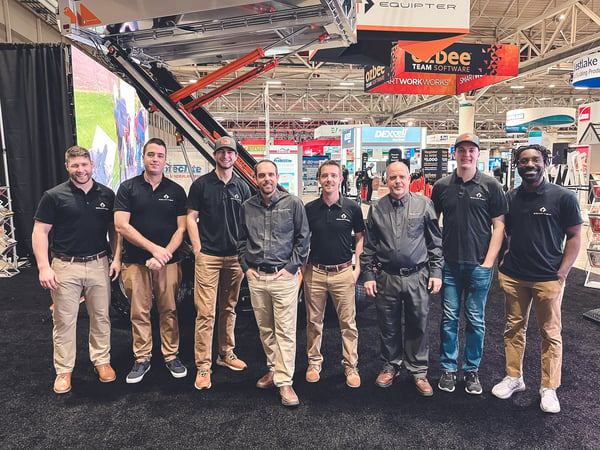 The Equipter team had a grand time in New Orleans at the 2022 International Roofing Expo. Connecting with customers and making new friends, getting a taste of local favorites...here's an inside scoop on what went down.
Sampling the show floor
In their spare time, some of our team members enjoyed the interactive experiences on the showroom floor. Between moments of capturing life at the show, members of the Equipter Marketing Team partook in a dose of friendly competition at TRI-BUILT and Beacon's booth activity, Speed of Light. And Progressive Materials, LLC, brought virtual excitement to the show with their golf simulator competition, something that caught Account Rep Shayne Huber's eye.
"There's a lot to see," Shayne said. "Especially in this climate, just interaction with people, seeing the latest products available in our industry, getting to see the [RB4000] in person."
This year's biggest trend? Solar roofing. GAF's booth focused on the release of their new Timberline Solar™ roofing system, catching nearly every eye.
Connecting with customers
One of our favorite parts of every show is being able to connect with familiar names–our customers. Trade shows like the International Roofing Expo create the best opportunities for finally putting faces to names, and despite the worldwide battle against COVID, this year's Expo was no exception.
Nothing got held up due to vaccination status, and according to our rep Shayne, the show harbored "a positive, easygoing atmosphere."
When asked his favorite part of the 2022 International Roofing Expo, Strategic Account Rep John Kauffman said, "Hands down, meeting customers. We do a lot of virtual communication, so getting to meet them, shake their hands...it was great to be there face-to-face and build those relationships."
John also said that connecting in person is a great time to get firsthand feedback on how Equipter products are performing for our customers and an opportunity for us to help them get more out of their drivable dumpsters.
Meeting new faces
Interest in the Equipter RB4000 was just as strong this year, as well. Cox Roofing left the Expo with the brand new RB4000 they purchased at the show, planning to use it to enhance their brand image and sub crew's efficiency.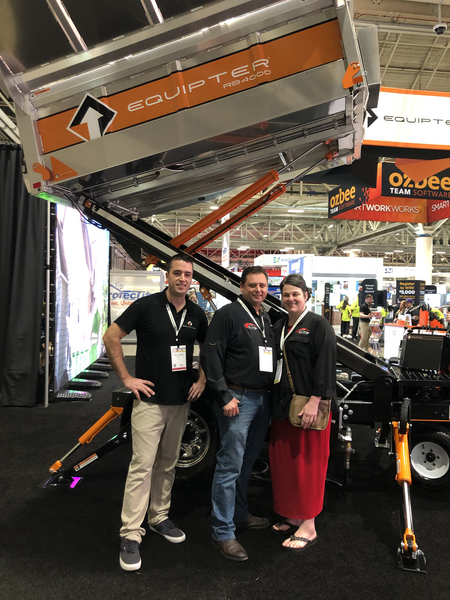 Featured: John Kauffman and Cox Roofing
Shayne shared, "Some people said the only reason they came was to check out the metal roofing products and see the Equipter in person."
One of the most rewarding experiences of attending trade shows with the Equipter RB4000 is when our customers start talking to other attendees who are checking out the Equipter. There's nothing more reassuring to a contractor than to hear other contractors talk about why they use the equipment and share how it can help someone who may be skeptical about purchasing. The camaraderie and trust in the roofing community shine through at trade shows, and we're blessed to witness it.
Checking out local eateries
When not at the show or hard at work in their hotel rooms, the Equipter team enjoyed some time out at local restaurants in New Orleans.
Not far from the hotel, the gents enjoyed freshly cooked eggs benedict and more breakfast foods at Two Chicks Cafe. Then, dinner at Tommy G's Coal Fired Pizza near the conference center. Tommy G's is a neat brick oven pizza joint where you can actually see the glowing brick ovens baking pizza. The guys enjoyed the oven-baked meatlovers pizza, a Hawaiian pizza, and unbeatable French fries.
The 2022 International Roofing Expo and New Orleans were experiences to remember. We can't wait to see what happens at IRE in 2023!