You see roofing competitors at the top of search engine listings and wonder: how do I get a top spot? While many factors contribute to search engine results, local roofing SEO is one of the most important—especially when you're marketing the business in an area with lots of competition. Learn how to use this technique to boost your company's ranking on search engines.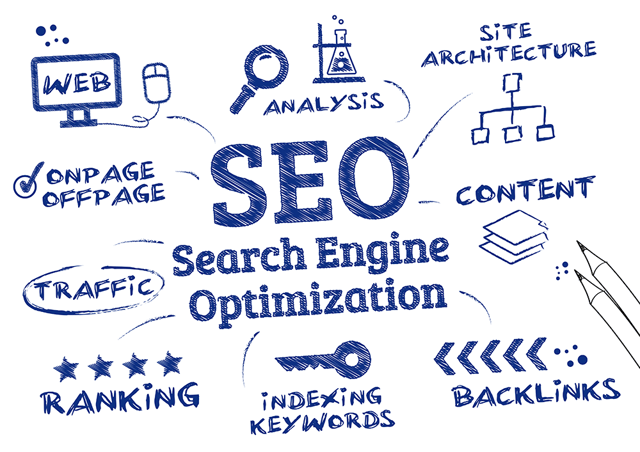 Local search engine optimization (SEO) is a type of marketing that businesses use to promote their services to local customers. Think of it as an updated version of the phone book. The order of a search engine's listings are decided by algorithms, or mathematical calculations that determine how closely a business website or page matches what the customer is searching for.
So how do you make it more likely Google, Bing, and other search engines will recognize your roofing business as the service a local customer wants?
1. Choose location-specific keywords.
If you want to rise to the top of the roofing pack in search results, it's essential to use location keywords in your website and social media content.
There are free tools, such as Google Keyword Planner and Keyword Tool.io, you can use to research local roofing SEO terms. And while it's worth the time to dig into specific keywords that will help grow your company's online presence, you can start by brainstorming a basic list on your own.
Imagine yourself as a homeowner who needs your services. What search terms would you use to find a roofer? Make a list of the words and phrases that come to mind, like roofing contractors, roofers, roof repair, and so on.
Next, pair those words with local terms a homeowner might use to find that service in their specific area. Your expanded list will now include terms to rank for, such as:
Roofing contractors [your local search area]
Example: Roofing contractors Lancaster PA
[your local search area] Roofers
Example: Lancaster PA Roofers
Roof repair [your local search area]
Example: Roof repair Lancaster PA
Walk through the same process for other services you may offer, too, such as gutter replacement, window installation, etc.
2. Implement keywords throughout your roofing website.
Once you've prepared the local roofing SEO keyword list, incorporate the terms into your company's website and social network content. When a potential customer types those terms into a search engine, your business will be more likely to appear higher in the listing.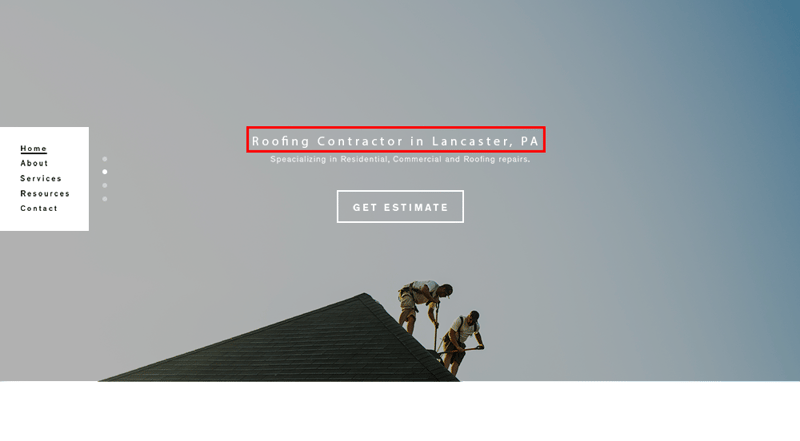 Above is a good example of a roofing company using location-specific keywords on their homepage. Here they added it in a header format with supporting content, which is a great way to implement your keywords and help you rank for SEO.
3. Add your location-specific keywords to your page titles and metadata.
A good practice for roofing SEO is to include your location-specifc keywords into your titles and metadata. As you can see in the screenshot below, adding those keywords to the title and metadata for your homepage, service pages, and even your blog posts can help boost your ranking in Google search results.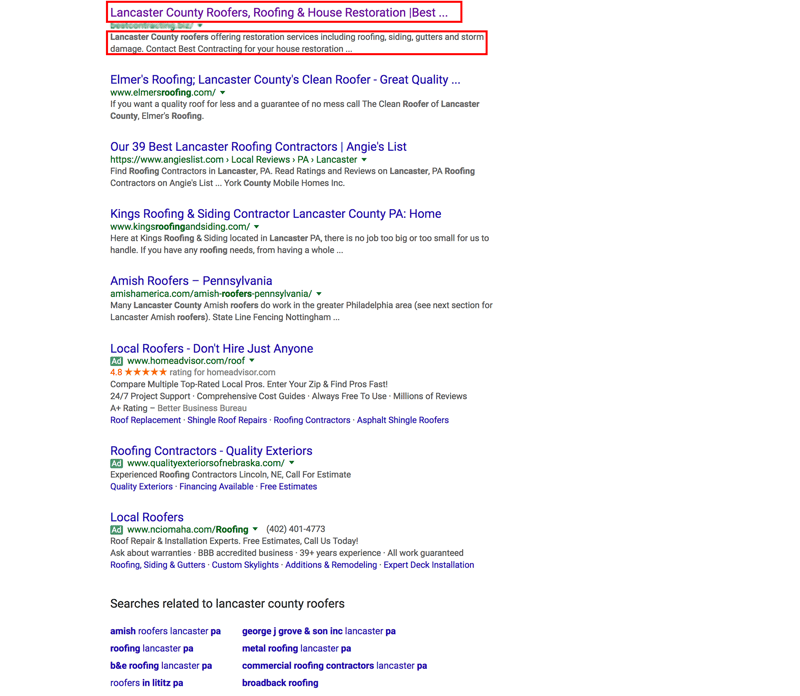 4. Use a consistent name, address, and phone number.
This can play a crucial role in your local SEO efforts. Local roofing SEO best practices are to add your main office address to the footer of your website. You can see this in the example below. An important part of making sure Google recognizes and understands that you are from a specific area is to add your physical address to the footer of your website and be consist in other parts of your website when referring to your location.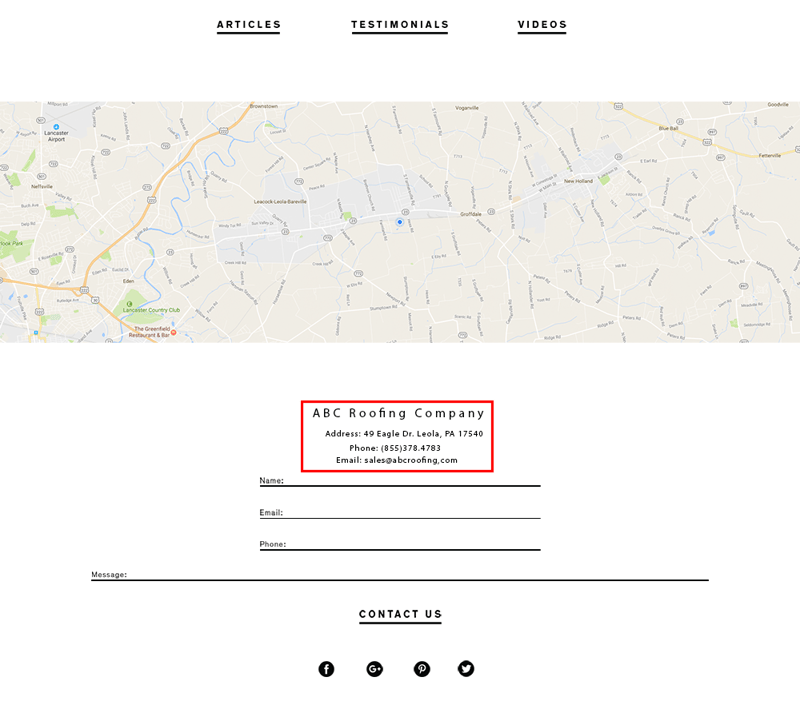 You also want to add or ensure all of the major business listings are up to date with your current office location. You can view if your listings are correct with this tool from MOZ. You can also automatically fix any incorrect or unfilled fields with their essential level package for $9 a month. Check it out here: https://moz.com/local/search
5.
Create a

Google My Business account.

If you have not already, creating a Google My Business account is a great way to stand out in Google's search results. Creating an account is an easy process that can benefit your company in more than just roofing SEO efforts. Here, your customers will be able to review your business. Not only that, but this is also makes your site more visible on Google products, like Search and Map.

But, wait!

Boosting local search for a small business is about more than using the right keywords. For example, based on Google's most recent algorithm updates, some of the factors that ranked a business higher in competitive markets were related to local SEO. (Learn more about how Google ranks websites.)
Bonus SEO Tips for Your Roofing Company
Hungry for more? Here are a few additional practical roofing SEO tips to increase your local search visibility:
List all of your locations on your Contact page.
Generate links to your website from other websites.
Link internally (connect related blog posts with specific service pages).
Post your office hours on your website (in the footer and on the Contact page) and Google My Business account.