Whether you're thinking about adding more options to your equipment rental fleet or starting your own roofing business, investing in a dump trailer or two will help your business go a long way.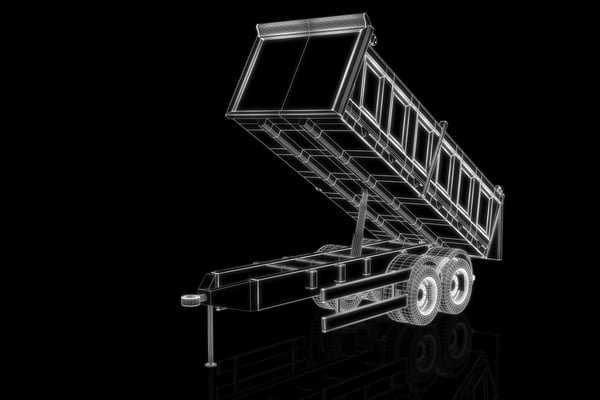 Hydraulic dump trailers are the most efficient type of dump trailer, making cleanup significantly easier at the end of a job. Here, we cover the basics of how different hydraulic lift systems function as well as what to consider when buying a dump trailer to help you streamline the decision process.
Hydraulic Dump Trailer Operation
Using a dump trailer is more detailed than just towing it to the site, loading it with trash, and hauling it to the dump.
The most valued feature of the hydraulic dump trailer is its hydraulic lift system for obvious reasons. The hydraulic lifting capabilities allow users to tilt the container in order to dump its contents with very little contact, reducing the risk of puncture wounds and splinters from debris.
There are three main types of lifting mechanisms:
Telescopic-style lift - A single cylinder lifts the dump bed of this hydraulic trailer to its full dump angle. Manufacturers typically put this in the center of the dump container's front end.


Dual-piston lift - As implied, this system uses two pistons to lift the dump trailer.


Scissor lift - Most popular. The scissor-like function of one cylinder allows for maximum leverage while dumping and also expands the footprint to help with uneven loads.

An article by Family Handyman notes that the battery life of a hydraulic trailer can be cut in half if the hydraulic system uses it when lowering the dump box. However, the "gravity down" option on some trailers doesn't utilize the battery, which means you likely won't need to replace it as often.
What to Look for When Buying a Dump Trailer
If you're in the market for a dump trailer, make sure you take as many factors into consideration as possible. We've noted just a few here below.
Size and Weight
Of course, the trailer needs to be large enough to hold whatever debris you're trashing. Be sure to consider the average job size (for example, the average square roof for roofers).
Each trailer's tongue weight and GVWR play a large role in determining the best dump trailer to buy. Your company truck should be able to haul the trailer comfortably without exceeding the truck's max towing capacity.
Container Durability
More and more dump trailer manufacturers are pumping out aluminum trailers. Why? Aluminum is lightweight and rust-resistant, which gives them a longer lifespan than trailers made of other materials. Steel dump trailers are also available. The Family Handyman article shares that some contractors even prefer dump trailers with a galvanized finish for extra strength.
And don't forget to check how thick the metal of the trailer is. If you're hauling heavy loads, you'll want to go for a hydraulic trailer with a bed that is thicker than its walls.
Tubing of Side Walls
Common side wall framing is often made from either 2x3 tubing or 2x2 tubing. According to Campway's Truck Accessory World, some dump trailer manufacturers choose to frame trailers with 2x2 tubing as a way to reduce production costs. But when shopping for a durable trailer, you'll want to go with one that features framing of 2x3 tubing.
Other features that come into play when deciding on what dump trailer to buy include but aren't limited to the following:
Optional battery charging station
Using Additional Equipment with Your New Dump Trailer
Once you've purchased a new hydraulic dump trailer for your roofing or construction company, why not go one step further and invest in equipment that can help you save even more time on the job?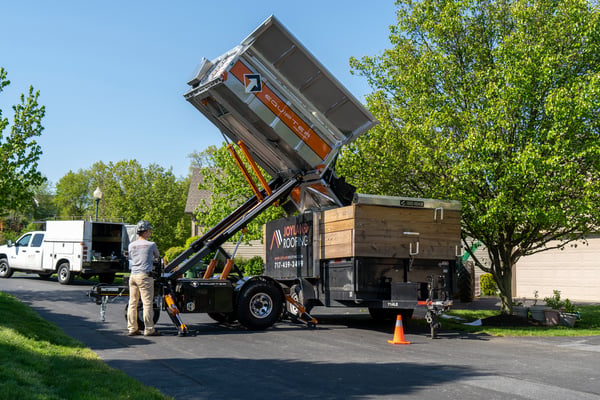 Equipter Customer Featured: Joyland Roofing
Instead of paying a full-time two- or three-man cleanup crew, consider renting or buying a smaller, self-propelled dump trailer that easily maneuvers around the job site to catch and haul heavy debris. The Equipter RB4000 can do just that. With a 12-ft hydraulic lift, the 4.1 cu-yd dump container catches debris and is easily operable by just one person.
Learn more about how the RB4000 works alongside your new hydraulic dump trailer here.
This article is meant to provide a general understanding of how roofing dump trailers work and a few features to look at when you're in the market for a new one. Be sure to do your research before making a final decision.

Have tips of your own to share with other professional contractors? Get in on the conversation on Equipter's Facebook page now!