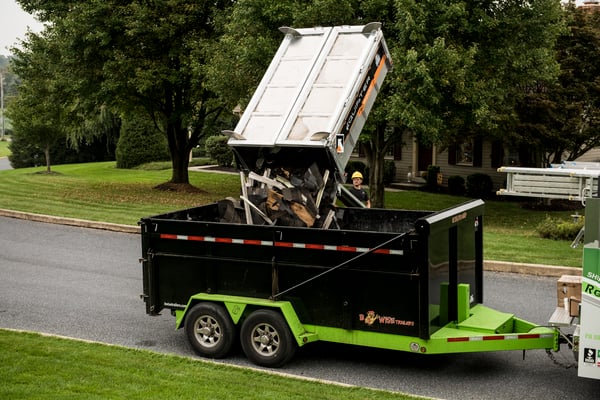 As a roofer, you know you need the right roofing tools not only to keep the roofing company running but also to keep its operations efficient. Investing in your crew by supplying them with the proper roofing dump trailers is one of the best ways to streamline the roof replacement process.
But how exactly do these trailers work together to boost efficiency?
In this article, we'll explain how the Equipter RB4000 works alongside a standard on-site dumpster or roofing dump trailer to speed up production, preserve properties, and maximize a roofing company's investments in innovative equipment.
How to use the Equipter with a roofing dump trailer
1. Get your roofing equipment to the job site.
When working with multiple pieces of large equipment, it can be a challenge to get everything to the job site, especially if you only have one company vehicle.
Since you can get a roll-off dumpster delivered straight to the job, the RB4000 is the only piece of equipment you need to tow. With its seamless hookup and lightweight design, you'll hardly notice the truck is towing anything at all.
For larger roofing jobs, many roofers choose to use a towable roofing dump trailer alongside the RB4000 lift rather than renting a roll-off. If you're using a hydraulic roofing dump trailer and the RB4000, you may need to use two vehicles to get them to the job site. The plus side? That leaves more room for all the tools and materials you need to get the job done ASAP.
If you don't yet own an Equipter RB4000, renting is always an option. Some rental companies will even deliver the self-propelled trailer straight to your job!
Bonus Tip: You can always pack the RB4000 full of supplies and materials to avoid taking that other trailer.
2. Set up the job site easier.
To avoid ruts in any customer's lawn, your salesperson should ask the homeowner or property manager for the best location to park the roll-off or roofing dump trailer. The RB4000 will eliminate dragging debris across the lawn, so your rep can explain that it's okay to keep the dumpster at the curb.
Be sure your roofing contractors and/or roll-off delivery person place the trailer in the customer's preferred spot when it arrives on site.
During this time, you can also use the RB4000 to transport tools and materials across the property, right to the roofline. Rest assured, the RB4000 is lightweight with extra-wide tires, so you don't need to worry about damage or ruts to the homeowner's lawn or landscape.
3. Streamline production.
After setup is complete, just fill the aluminum dump box with up to 15 square of roofing debris while it rests at the roofline. After its container is full, one crew member can drive it over to the on-site roofing dump trailer or roll-off dumpster, lift it, and use the hydraulic tailgate to dump all the debris. This is particularly useful when working with a deckover dump trailer that has higher sides.
Should you rent or buy a standard roofing dump trailer?
Here are a few questions to ask when considering whether to purchase a roofing dump trailer:
What are you currently paying in dumpster trailer or truck rentals?
What size trailer do you use the most on roof replacement jobs?
How long will it take to pay off the trailer?
Need more guidance on the right option for your business? Ask yourself four more questions before making a final decision.
Benefits of buying a roofing dump trailer
Buying your own hydraulic roofing trailer means no more rental fees. You wouldn't need to pick up the trailer or drop it off at the rental company, and you'd always have it on hand. That helps keep the project on track and, in turn, maintains a certain level of customer satisfaction.
Here are just a few benefits of owning your own trailer:
No more rental and delivery fees
No wondering where the delivery driver is
No constant struggles or confusion with rental companies
You can customize it to fit your individual needs
You know where it's been and who's used it
You can use it for personal reasons (e.g., moving)
If you decide to purchase, learn more about dump trailer features and what would work best for your business here.
Benefits of renting a roofing dump trailer
If you're on the fence about buying, here are a few reasons to consider renting a roofing dump trailer:
You don't have to worry about towing (if applicable)
No stressing over where to put it when not in use
Maintenance is not your responsibility
If you regularly rent a hydraulic dump trailer, though, consider what your company pays for that rental. It may be more cost-efficient to buy one and pay a small storage fee for the time when it's not in use.
Using a standard dump trailer with the Equipter RB4000 speeds up the roofing process and increases customer satisfaction. Check out Equipter's customer stories to see how the RB4000 can help your crews and improve your roofing company's reputation today.