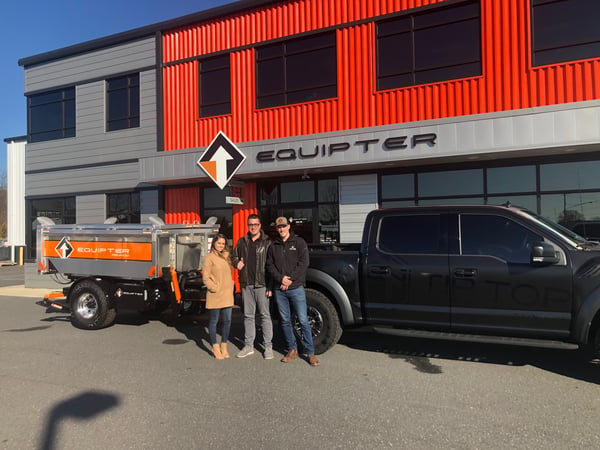 Above: Equipter Strategic Account Rep John Kauffman and our friends at Tip Top Roofing
It's that time again–time to think about how to improve your construction business. Whether you specialize in roofing, siding, or remodeling, one way to prepare for an uptick in business is to invest in high-quality equipment.
That's where the Equipter RB4000 comes into play.
If you've been thinking about buying the RB4000, don't let the purchasing process hold you back.
3 Ways to Buy the RB4000
There are several ways you can purchase the RB4000. Choose what you're comfortable with, and we'll assist you in any way we can.
1. Buy your Equipter online.
To purchase your Equipter RB4000 online, go to our Build + Buy page and enter your and your company's information.
After filling out a form with your company's info, you'll be able to select the equipment and accessories you'd like to purchase. In addition, you'll fill out your preferred shipping method and payment type (keep reading for more details on payment options).
Next, you'll see your order summary. From there, you'll have the option to either submit your purchase or save the package. If you save the package, you'll receive an email with information about the equipment and accessories you chose. If you submit the purchase, one of our sales reps will get in contact with you via phone about the next steps of the purchasing process.
Click the button below to start the purchasing process online now or continue reading for additional options.
2. Email the Equipter Sales Team.
If you're interested in purchasing an RB4000 but would rather go through the process via email, our sales team is available at sales@equipter.com.
After receiving your email, one of our sales reps will contact you to answer any questions you may have about our products and help you through the buying process.
3. Call to connect with one of our experienced sales reps.
Sometimes talking to someone in real time is the best way to communicate. You can connect with someone from our sales team by calling 717-661-3591 to get more information or directly purchase your Equipter. They'll be able to guide you through the process, making your experience as stress free as possible.
What Happens During the Purchasing Process
Purchasing your next big piece of roofing equipment is a huge decision. We're here to simplify the RB4000 purchase process and ensure you have a positive experience.
Here's what you can expect when you choose to work with Equipter.
1. Request a financing application or discuss payment options.
Consider applying to finance your Equipter. We can work with your bank if you'd prefer, and we also work directly with Wells Fargo and CIT. Our goal is to help you find the most affordable financing options so that your business–and crews–can experience the power of the Equipter.
If you decide to finance your Equipter, we require just $1,500 down. With good credit, many contractors' monthly payments start around $650-$700 per month. There are several plans available for financing including three-, four-, or five-year plans.
If financing isn't your thing, cash deals are also accepted. All you need to do is deposit $1,500 after you choose to purchase and ensure the rest of it is paid by the ship date of the equipment.
Our sales reps are also happy to help you decide which payment method is best for your business.
2. Get a custom quote from an experienced Equipter sales rep.
After you connect with an Equipter rep, we will put together a custom quote for you based on your purchase preferences and whether you'd like to include our top-of-the-line accessories to get even more out of your unit. From there, you can determine whether the purchase is the right decision for you, your company, and your crews.
3. Seal the deal.
Seal the deal by making your down payment. Once we receive your down payment, your sales rep will keep you posted on pickup/shipping delivery dates so that you have peace of mind knowing when your Equipter is on its way.
If you have any questions or need additional information about buying the RB4000, our sales reps are happy to help. Just give us a call at 717-661-3591 or email us at sales@equipter.com. We can't wait to connect!