So you're launching a roofing business. You've picked a name for your company and have started sorting through to-dos like figuring out cash flow and finding the right types of contractors' insurance. But you also need to consider roofing logos.
Luckily, you'll find plenty of options that make getting or creating a logo easier than you might think: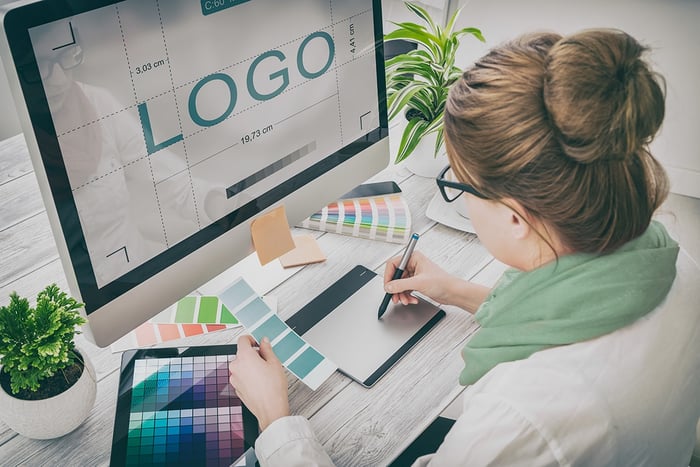 Hire an agency.
Wait! Before you completely trash the agency idea...we know, it sounds way too pricey—at least it feels that way when you're working with a new-biz-sized budget.
But if you have wiggle room, a reputable marketing agency can provide excellent value for your new roofing company's logo. Their process is often comprehensive and may include market and competitive research. Plus, you'll get the convenience of ready-to-use images suitable for a range of print and digital uses.
Work with a freelance designer.
Freelance pros can be an affordable option for new roofing businesses. Sites like Upwork let you vet and hire freelance logo designers at rates typically lower than an agency's. The site 99designs offers a contest format that allows you to get logo designs from numerous freelancers, and then award a monetary prize for the logo you choose.
Design your own logo.
You don't necessarily need a design degree to create a logo. Platforms like Canva offer free and paid accounts with templates and other resources for your roofing logo design.
Tips to create your own logo for a new roofing business
We spoke with Equipter Creative Director Blake Rowley for tips on creating logos for new roofing companies. Here's what he recommends:
Use a readable typeface.

Fancy fonts are tough to read, particularly for older people and others with lower vision. Keep in mind your customer base will likely include middle-aged and even elderly homeowners (depending on your location), so you should stick to a font that doesn't make people squint their eyes or tilt their heads to figure it out.
Make sure the logo looks good big or small.

You'll need to get a lot of mileage out of your roofing logo because it could end up anywhere, from tiny icons on mobile devices to ginormous highway billboards. Choose a design that scales well, up or down.
Don't be afraid to stand out.

The roofing market is saturated with logos featuring roofs, homes, or buildings. While sometimes there's an advantage in using a visual that clearly represents what you do, it can also make it hard to differentiate yourself from the competition when consumers see dozens of lookalike logos.
How did we handle it at Equipter? Although we sell directly to roofers and contractors, our logo doesn't feature a visual like a roof, home, or tool. Instead it's an arrow that suggests both our flagship product, the raisable RB4000 lift, as well as the idea that our specialized equipment helps roofers raise their business to the next level of success.
Keep it consistent.

Swapping out colors and fonts often can confuse consumers, which isn't ideal when a new roof company is working to establish itself. Choose fonts and colors—and then stick to them. Websites like Color Picker, HTML Color Codes, and others can help you nail down exact colors that you can share with web designers, printers, etc to confirm consistency on your roofing marketing materials and more.
No matter what colors or font you choose, make sure the logo appears well in black and white, too—in some situations, like in a newspaper advertisement, use of color may be limited.
Get inspired.
Unbog your brain with a simple mood board. These are NOT just for high end designers working on a new fashion line or DIY show fans dreaming of a new kitchen! Collecting pictures or words that reflect the ideas you want to portray can help you generate roofing logo design ideas.
Your mood board can be as low key as collecting images or sketches in a discount store folder or as high tech as keeping a digital version on Pinterest or a mood board app.
Consider a font as an alternative to a logo.
As a new roofing company owner, you want people to remember its name. Presenting the name in a good font—instead of a logo—puts the focus squarely on the name, helping create valuable brand awareness.
If you go this route, follow the same rules as other logo design: make it scalable, keep colors/fonts consistent, etc.
Choosing roofing logo designs can seem overwhelming, especially when you have so many other things to consider for your new company. But if you follow these tips, you will create a logo that helps build your brand and helps you stand out from the competitive pack.