Growing profit can be as complex as growing perfect grass on a professional sports field. But you can build a profitable landscape business if you leverage the right strategies. Use these techniques to learn how to get landscaping customers.

1. Build a landscaping referral program.
If you don't already have one in place, a customer referral program is a smart way to facilitate word-of-mouth advertising. Offering an incentive—whether it's monetary or non-monetary—can be just the encouragement a happy customer needs to spread the word about your landscape business. The most effective way to motivate is to offer incentives for the referring client and the new prospect.
2. Invest in time-saving, damage-reducing equipment.
Pro-level landscaping equipment, like the Equipter 3300 self-propelled trailer, streamlines efficiency so you can get more done faster—a factor that always boosts client satisfaction. The self-propelled container is heavy duty, yet relatively lightweight, which translates into less risk of digging ruts into beds and lawns.
3. Leverage Facebook and Instagram advertising.
Digital ads can be a major opportunity to reach the right customers. One of the main advantages to using Facebook and Instagram for ads is the ability to create highly targeted audiences based on factors like location, interests, and demographics.
Boostpoint, an Equipter partner company, takes the mystery out of running ad campaigns on these networks. It shows your landscaping company ads to a highly targeted audience based on areas where you're already working or where you want to work. The app also provides customizable ad templates to help you get started, as well as an easy-to-read dashboard so you can measure campaigns for ROI more clearly.
4. Brand your stuff.
You don't need to take out a pricey billboard along the highway when you already have valuable space to utilize. Make use of everything from equipment to trucks to crew t-shirts to imprint your name on potential customers' minds, including the driver stuck behind your landscaping truck during rush hour traffic.
5. Don't be afraid to go old-school.
Social media and digital advertising get a ton of attention when it comes to ideas for how to get landscaping customers, but don't hesitate to put older marketing techniques to work. Leverage simple "notice-me" tactics like door hangers and yard signs. Branded swag, like seed packets, flower pots, or even pens, are great ideas for initiatives like home shows or customer thank-you gifts.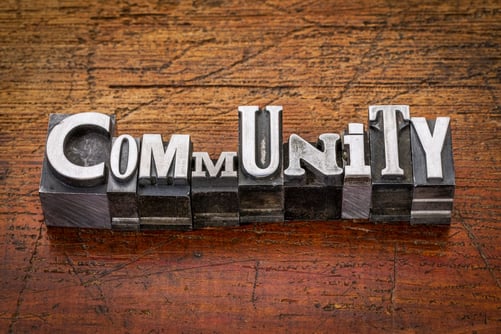 6. Get involved in your community.
As a professional landscaper, you have the tools, resources, and know-how to make the community where you live and work better for everyone in it. Whether you volunteer to spruce up a local nonprofit's property or contribute landscape materials to a local park, the more involved you get with your neighbors, the more likely they are to remember your name.
7. Use your landscaping website for lead generation.
If your website isn't set up to capture leads, you could be wasting valuable online real estate. Effective lead gen for homeowners can be as simple as an easy contact form for the customer to request a free quote. If your landscape company targets larger clients, like those with commercial properties, consider qualifying leads by offering a detailed guide or how-to ebook in exchange for the property/facilities manager's contact information.
Need more ideas? Follow these landscaping blogs for how to grow your business and developing content for your own blog.

8. Ask clients to review your business online.
From Yelp to Facebook to Angie's List, online reviews are go-to resources for homeowners, with nearly 90% saying they refer to reviews online before they spend money locally. Build customer relationships by asking them to leave unbiased reviews for your business. If you're nervous about asking for reviews because of the potential for receiving poor ones, get these 5 Tips to Handle Bad Online Reviews.
These tips for how to get landscaping customers will help you grow a stronger business!

For more information on the Equipter 3300, the self-powered and towable trailer perfect for landscaping projects where lawn protection is essential, click here.