The right tools are a must-have for any job. No matter how many years of experience you have under your belt as an HVAC professional, you know this firsthand. Do you have any of these HVAC tool kits in your arsenal of everyday essentials?
We've included links to the products on popular online stores, but don't be afraid to shop around for better deals.

This option is a solid all-in-one kit for technicians, including all the basics and then some, such as a refrigerant gauge and multimeter. It also includes basics like a tube bender, mini tubing cutter, and tube working kit so you can easily work lines. Everything comes in a durable portable tool bag.
When it's time to diagnose problems in an HVAC system, this kit is the doctor's kit of HVAC tools. With its autoranging multimeter, clamp meter, and AC voltage detector probe, you can take the voltage, current, and temperature measurements needed to sort out trouble spots. This Elenco HVAC tool kit, which comes in a zippered canvas case, also includes screwdrivers, pliers, and a pocket flashlight.
This isn't a complete HVAC service tool kit. Instead, it's a heavy-duty tool bag designed to handle the hard use of a busy tech. The bag includes two separate storage bays, four storage compartments, and nine D rings for your meters, hand tools, hoses, and wires. It holds a whopping 56 tools of many sizes, and the bag is engineered to store those tools without tipping.
Do you use a tablet on your HVAC jobs? There's a compartment for that too!
Veto's technician bag features EVA padding and an ergonomic design, so you can carry tools more easily, even when you're walking up ladders or snaking through crawl spaces.
Get essential welding done with this kit for HVAC professionals. The self-lighting torch uses standard propane or MAPP disposable cylinders, and it can handle small and large projects. Weighing only about six pounds total, this specialized tool kit comes in an ergonomically designed storage bag with a Heat Shield adjustable shoulder strap and room for two gas cylinders.
Make bends simply and quickly with HVAC tool kits like this one. The bender kit includes a reverse attachment and ratcheting lever as well as color-coded mandrels. One of the top features of this kit is its slim case that makes it easy to work jobs in tight places.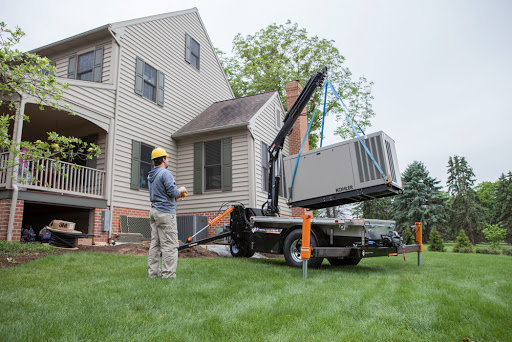 Bonus HVAC Equipment
The Equipter CR8400 Compact Mobile Crane isn't a tool kit, but we wouldn't be doing our job if we didn't mention it as a must-have part of your equipment lineup. The Equipter team, which got its start in the roofing industry, designed the CR8400 small mobile crane to do the heavy HVAC lifting equipment for you. The telescopic crane has a GVWR of 7,500 lbs, saving tons of wear-and-tear on your body and reducing labor hours, so you can finish HVAC jobs, like air conditioning unit installations, more quickly.
This versatile crane is self-propelled so you can position it virtually anywhere on a residential job site—it's compact enough to go many places a conventional crane just can't!
Pre-compiled HVAC tool kits make even the ugliest jobs a bit more bearable. It's important to invest in good quality tool kits and other equipment that help you complete more heating and cooling jobs more efficiently. Keep an eye on the Equipter blog for more tips and tricks on improving your HVAC business and customer service, and connect with us on Facebook to join our conversations.