As winter approaches with its cold weather, ice, and snow, you may be thinking about how to keep your equipment out of the elements.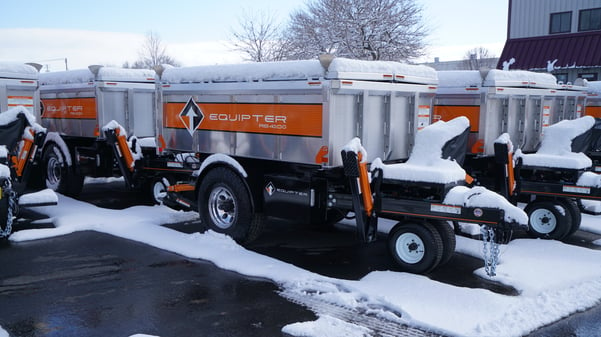 Roofing is generally put on hold for the winter, meaning your Equipter RB4000 may be put to rest for a time as well. However, you don't need to worry about finding space in your garage or the cost of a storage unit for your Equipter. Thanks to the high-quality components of our equipment, damage from the elements is not an issue. The majority of our customers are able to store the RB4000 outdoors in the winter.
Listed below are five reasons why it's okay to leave your RB4000 outside this winter.
1. The dump container is made of rust-resistant aluminum.
Rust is caused when certain metals are exposed to the elements. Over time, corrosion weakens machines and leads to a less professional appearance on jobs.
Carbon steel is one of those metals. It's nearly twice as heavy as aluminum and far from rust resistant, which is why the Equipter is manufactured from rustproof aluminum.
In addition, the high-quality paint used in finishing our equipment provides an extra layer of protection against corrosion.
Not only is this wonderful when it comes to unforeseen rain showers or snow squalls on the job, but it also allows the RB4000 to withstand Mother Nature's wintry mood swings without affecting its performance when roofing season starts up again. This gives owners the confidence they need in trusting they can leave the RB4000 outside during the winter while it's not in use.
2. The engine is encased and locked to prevent theft.
Equipment theft has been an increasing problem. Machinery is difficult to recover once it disappears, and the company stolen from is left with the loss of a large investment and whatever profit that investment built into the bottom line.
At Equipter, we want to bring you quality equipment that is not only protected from the elements, but also safeguarded from theft.
Our RB4000's engine is encased to protect it from damage and prevent exposure to bad weather. The unit's engine box also comes with a built-in lock and a key in order to keep your equipment from disappearing. This means no more stressing over potentially lost profits and having to replace equipment if you're keeping the RB4000 outside in the winter.
3. The Equipter-branded vinyl cover protects the control panel.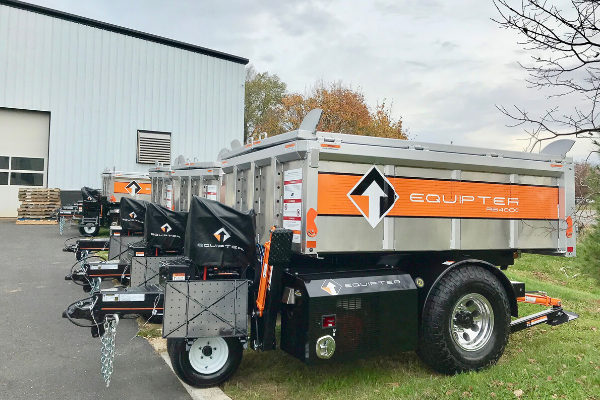 The RB4000 comes standard with a sleek black vinyl cover complete with the Equipter logo. This high-quality cover protects the valves from water and ice damage, extending the life of the hydraulic system.
If you have an older unit that did not come with the control panel cover, feel free to contact our service department at 717-661-3591 to purchase yours today!
Having protection for your control panel ensures that your equipment will not be damaged when exposed to rough weather conditions.


4. The RB4000 utilizes high-viscosity oil.
At Equipter, we use high-viscosity hydraulic oil to bring top performance to your RB4000. The equipment's hydraulic fluid remains at a consistent viscosity in a wider range of temperatures than average hydraulic fluid does. This ensures that the components of the hydraulic fluid will not break down or freeze in colder temperatures.
Using top-quality hydraulic fluid enables you to store the RB4000 in cold environments without bringing damage to the many intricate parts of the machine.
5. High-quality bearings prevent corrosion and seizing.
Another feature that allows the Equipter RB4000 to withstand wet and cold weather is its bearings. The RB4000 and other Equipter products use high-quality bearings, which protect the shafts from corrosion and pivot points from seizing.
This preservation makes it even safer to store your RB4000 outside in the winter.
As you think about your equipment and where it could be stored, keep the points listed above in mind for your RB4000. Because of its industrial durability and quality, you might not need to find that extra space that you simply don't have in your garage.
Still don't have an RB4000? Let's fix that. Click below to start building your own RB4000 now, and keep your eye on the Equipter blog for more helpful articles!