Show, don't tell. That's the emerging message for roofing business owners and managers who want to engage consumers and stand out from the competition. This guide will help you leverage the power of visual content in your roofing marketing to land more leads and boost your business.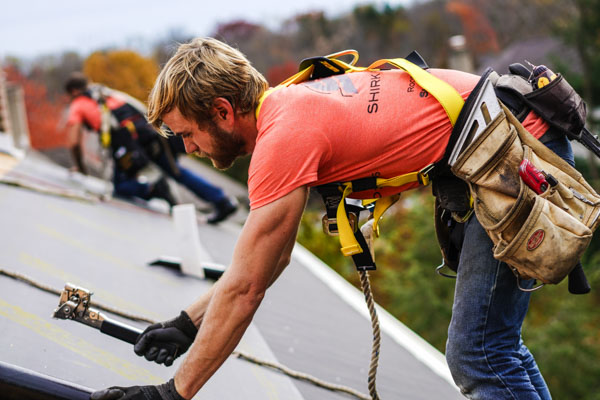 Visual content (photos, infographics, etc.) increasingly matters for companies that want to get noticed online. Content paired with a relevant image earns 94% more views than content with no included image. In addition, research suggests colored visuals increase a person's willingness to read content by 80%, and color content makes an impression 39% more memorable.
Where should you market with visual content?
Visuals make an impact everywhere online, from your roofing company website and blog to your Facebook Page and Twitter account. Some social platforms, like Pinterest, Instagram, and Houzz, focus heavily on visual content. If you don't already have a business account on one of these image-oriented sites, it may make sense to set up shop there if your customers frequent those platforms. At Equipter, we use visual content to market the RB4000 and other specialized roofing equipment on our blog, website, Instagram, Facebook, and Twitter.
For instructions on how to set up an account on these websites so you can use them in your roofing marketing, visit:
Visual Content Marketing - Equipment & Software
You don't need expensive equipment or software to access the power of visuals. Many smartphones take good-quality photos you can easily share to your business social media accounts, website, and roofing blog. Use apps like Instagram or Photo Editor to edit photos, use filters, or apply wording. Learn advanced photo editing tips to further enhance your visuals in this tutorial: Beyond Instagram: How to Use Multiple Apps to Get the Photo Effect You Want.
If you want to create your own images, such as announcements or how-to images, websites like Canva make it simple to create professional-quality images. Canva offers free and paid accounts.
Tips to Market Your Roofing Company with Visual Content
Think beyond photos.
Photos of your roofing crew, job site, and before/after pics are an ideal way to market visually, but they're not your only options. You can also share:
Tips, Tricks, & How-To's
Calls to Action (For example: Visit our booth at the Fall Home Show.)
Videos
Quotes
Infographics (Check out the example below of an infographic we created for our customers in the roofing industry.)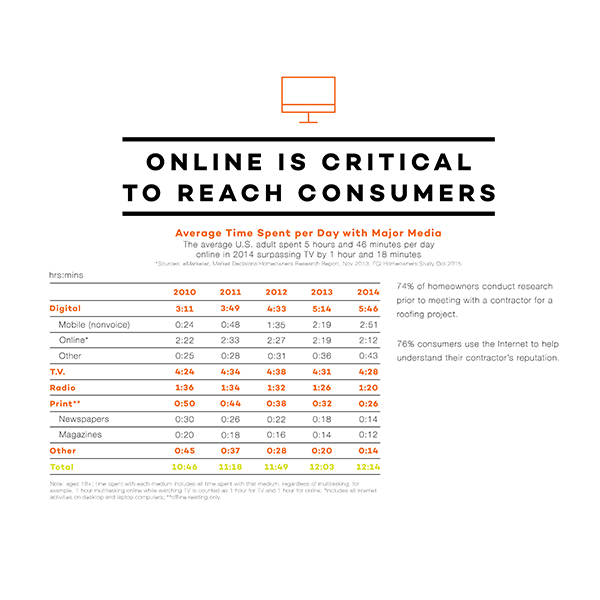 Make sure you have permission to use photos you didn't take.
If you're not using a photo you've taken yourself, choose copyright-free, royalty-free photos from a digital photo website (many offer free and paid account options). If you see a photo you'd like to use on a website or blog owned by another person or company, you must ask permission to use that photo.
Use images to extend the reach of written roofing content.
Images are a savvy way to make your written content work even harder. For example, if you posted a blog entry with gutter cleaning tips for homeowners, create an image in Canva or an infographic that shares the same information.
Tap your audience for content.
Get clients involved by inviting them to share their own photos on your online channels. Feel free to tap any outdoor home theme, such as:
Outdoor holiday decorating photos (Halloween, Christmas)
Porch/patio outdoor living space photos
Before/after home exterior renovation photos
You can even turn your visual crowdsourcing into a giveaway or invite clients to vote on their favorite image.
Streamline the creation of visual content marketing.
Chances are good you've got a lot on your plate—so it can seem overwhelming to consider adding one more thing to the to-do list. One tactic to make visual marketing easier is to dedicate time every week or month solely to putting together your visual marketing content. For example, set aside one hour on the first Friday of every month (or whatever day/time works for you) to assemble the pictures and images you'll share that upcoming month.
Visual content is just one of many types of assets to use when marketing your company online. Check out some other handy tips for marketing your roofing company on and off the grid here.