It's time to make your roof replacement business work smarter, not harder.
The Equipter team designed and built specialized roofing tools, like the RB4000, to streamline the debris management process. In the years since, we've continued our focus on helping hard-working roofers work smarter by increasing productivity, completing jobs more quickly, and closing more sales.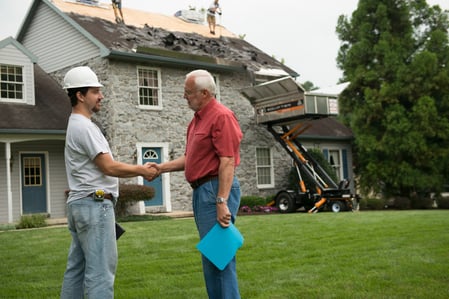 To help you do that, we've rebooted our New Roof No Mess® marketing for roofers program. The sign-up fee is gone and we've streamlined the sign-up process so you can hit the ground running faster. Any contractor who owns an Equipter RB4000 or continuously uses one (such as through a rental company) is eligible for this marketing program.
Resources That Help You Build a Better Bottom Line
Chances are good school didn't teach you how to advertise on Facebook or how to make your back office run like a well-oiled machine.
The Equipter team understands that when you have access to professional-level roofing business information, you can grow your company—taking care of your family and your employees. When you utilize New Roof No Mess you'll get access to exclusive educational resources that help you work smarter—not harder.
Marketing Materials that Set You Apart From the Pack
When you're busy managing job sites or emailing invoices, it can be a challenge to find the time to design cost-effective marketing materials that let customers know you're the best roofer to take care of their home.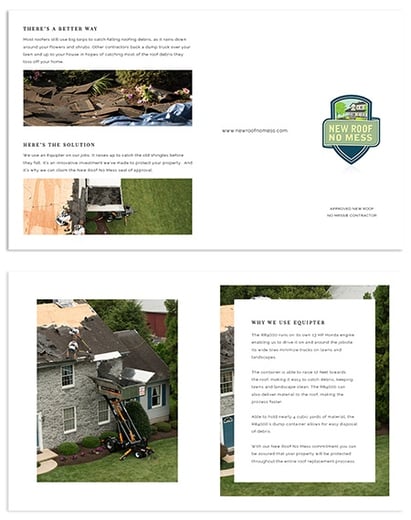 New Roof No Mess roofer marketing also offers professionally designed and written collateral, including booklets and flyers. You get access to our professionally produced Equipter video, too, which you can post on your roofing website or show to homeowners during sales calls. The video is an ideal tool for showing your prospects exactly how the RB4000 will reduce property damage and keep the jobsite far cleaner than the traditional roofing process—value most homeowners will instantly recognize.
In addition, Equipter markets the advantages of the RB4000 roofing process directly to homeowners through its consumer-facing New Roof No Mess website. Homeowners can search for New Roof No Mess contractors by zip code. They'll receive search results linked to participating companies' profiles, including contact information, website URL, and customer ratings.
Put the Equipter advantage to work for your company's bottom line.
If you use an Equipter RB4000, sign up for New Roof No Mess marketing for roofers.
However, if you don't currently own or rent an RB4000, find out how this innovative roofing tool will change the way you replace roofs. Learn more.