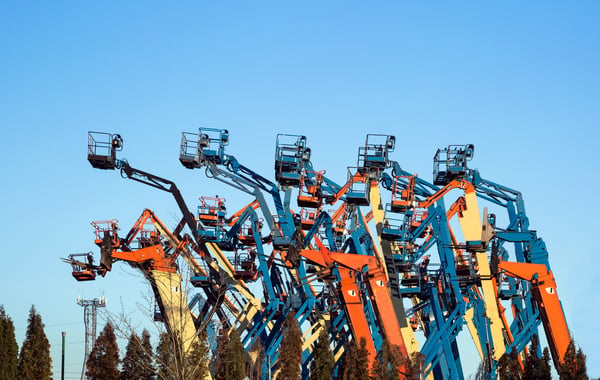 The great construction industry debate: Is it better to buy or rent construction equipment?
If you're looking to rent equipment to get a job done, how do you know if a construction equipment rental company is reliable?
Today, we bring you five points to address that will help you choose the best construction equipment rental company for your business.
1. Does the company have the equipment you need?
The most obvious question to ask when you're checking out a rental company is whether they have the equipment you're looking for. Whether you're doing a project that requires a scissor lift or a skid loader, make sure they not only carry the equipment you need but that they have it on hand when you'll need it.
One piece of equipment that has revolutionized the roofing and general construction industries is a self-propelled dump trailer called the Equipter RB4000. The RB4000 can be found at over 190 rental locations in the US and Canada. If you're looking for a faster, more efficient way to get supplies where you need them or to transport debris across the job, click the button below to find the closest rental company to you.
2. Does the company service their equipment in-house?
A rental company may have the type of equipment you need, but does it reach the standard of quality you're looking for? If you have the opportunity, take a look at the equipment you want to rent before you sign the papers. Image is part of your reputation as a contractor, so be sure the equipment is in acceptable shape visually and all functions work properly.
Don't be afraid to ask how often the equipment rental company does maintenance on their equipment. You're more likely to find better-kept equipment at a construction equipment rental business that has its own in-house service department.
There are several reasons why in-house service may be better for both you and the rental company:
No outsource expenses, including service and delivery, may translate to more affordable rentals for you.


A reliable company with an in-house service department hires trustworthy techs, so they're able to closely monitor and control how the equipment is treated.


The company doesn't suffer downtime from picking up and returning equipment for service, so as soon as the maintenance is done, the equipment is back on the lot and ready when you need it.
If the equipment rental company believes in serving their customers with excellence, you can trust that the equipment they service will be in tip-top shape.
3. Does the rental company offer dropoff and pick-up services?
How much easier would your job be if you didn't have to stop to pick up rental equipment on the way to the job? Some construction equipment rental companies offer delivery and pick-up services to help make your project go as smoothly as possible.
Here are just a few benefits you get from equipment delivery and pick-up services:
Save miles on your company vehicle, slightly extending its longevity.


Your company vehicle is available to haul other equipment you need.


Some companies that deliver will also provide quick equipment demos on the job, so your crew is comfortable with it at the start of the day.


You can get home sooner when you don't have to drive out of your way to return the equipment.


You don't have to stress over an additional fee if you're unable to make it back to the rental location in time.
This option is also ideal if you're on a tight schedule with a customer. Just be sure that they're reliable in their timing. You can find that out through online reviews and by talking to fellow contractors who've used (or continue to use) the company you're considering.
4. Is training provided by the rental company?
As mentioned above, some companies offer product demonstrations. If no one on your crew is familiar with the equipment required to get the job done, a training session or demonstration can help increase efficiency and complete the job sooner.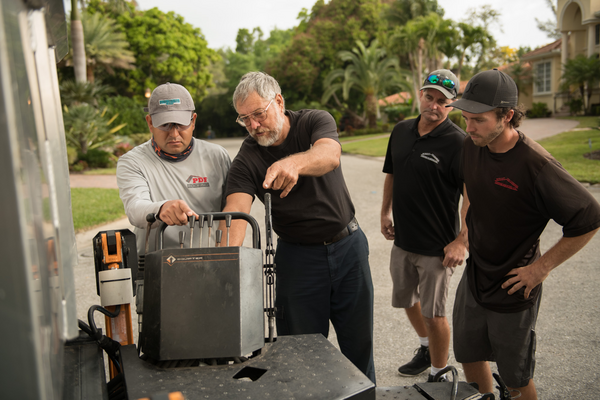 Rental companies that take the time to educate their customers are dedicated to more than just their bottom line. They care about the safety and satisfaction of their customers.
5. Check Google reviews–and the company's responses.
Google reviews give you feedback from contractors like yourself who have worked with the construction rental equipment company you're considering. They often shed light on whether the equipment was well taken care of, the quality of customer service, and whether deliveries arrived on time.
If the construction equipment rental company you're considering has any negative reviews, be sure to read their team's responses. How a company responds speaks volumes about their quality of service. Aggressive responses and those that don't speak to the customer's specific concern may be a reflection of their typical customer service.
However, if they respond to negative reviews with humility, providing solutions to misunderstandings or mistakes, you know the company cares about their customers and their satisfaction.
Finding and dealing with a reliable construction equipment rental company helps you maintain a professional image and provide an overall high-quality customer experience. Always keep these points in mind when determining what rental company to work with.