Doing work you can't bill for hurts. It costs time and money, plus it tarnishes the reputable image you're working so hard to create for your roofing business.
Reduce the do-overs. Use these 6 best practices to cure the common callback so you keep control of your time, money, and reputation.

1. Tighten up the estimate process.
Shingles aren't the only thing you need to nail. Giving on-target estimates is a must for reducing callbacks. From proper measurements to documenting colors and styles, the more info you accurately collect, the more likely you are to provide an accurate estimate that doesn't include unpleasant surprises for you or the homeowner.
If there are several major components to the project-maybe you're roofing a residence plus a detached garage-break out each component separately within the estimate. This allows you to clearly account for time and materials needed for each building.
2. Manage expectations.
Practicing ongoing communication is critical for cutting callbacks. For instance, a seemingly minor lack of communication about your crew's start time can lead to frustration for the homeowner, and possibly even their neighbors.
Share any information you'd like to know if you were in the customer's shoes:
Daily start & end time estimates

Any larger-scale equipment you might be using, like an RB4000 roofing trailer

Project changes caused by factors not apparent during the initial inspection

Changes in schedule triggered by weather, crew absences, & other factors
3. Use high-quality roofing equipment and materials.
Premium materials may cost more from the get-go, but they'll save time and money if they prevent the problems that lead to callbacks. Buy shingles, flashing, and other materials from trusted manufacturers, like GAF and others able to back up their products with robust guarantees.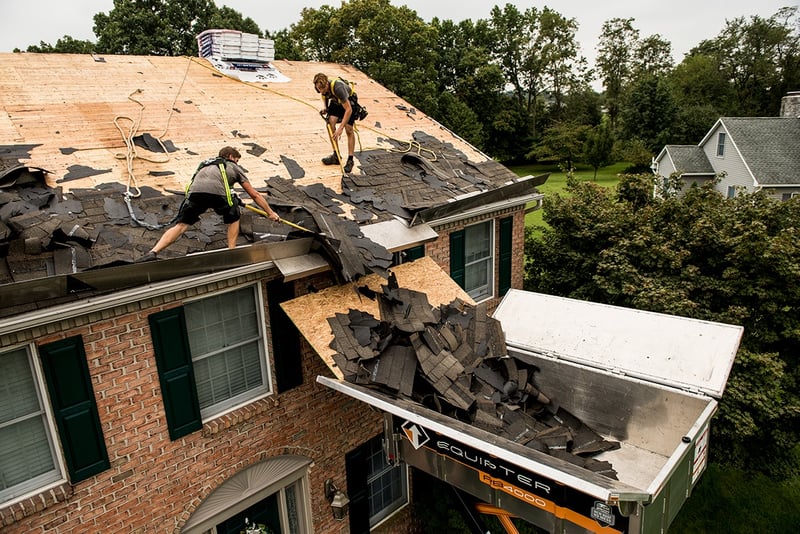 Roofing equipment matters, too. The RB4000 self-propelled roofing trailer, with a container that lifts 12 feet high, allows crews to place debris directly into the raised box instead of throwing it onto the ground. It creates a much cleaner job site, but it also reduces the property damage that can lead to callbacks from angry customers.
4. Do a post-project inspection.
Reduce the potential for roofing callbacks by inspecting materials and workmanship immediately after the project is done. Using a checklist of common oversights, from improperly installed starter strips to a missing drip edge, will help you create consistency from job to job. Be extra vigilant about natural transition spots, like where the roof and wall meet.
5. Schedule a quality check-in.
Some service contractors head off callbacks by scheduling a quality check-in three or six months after a project wraps up. This gives you the chance to find and fix potential issues before they come to the homeowner's attention.
Even simple touch-ups like hammering in a nail pop show the customer you care about their property, and that helps build trust and generate organic referrals.
6. Keep track of callbacks.
Make callback rates part of your regular key performance indicator (KPI) reporting to identify any trouble spots in your process.
Tally the total number of projects for a given period and then compare that to the number of callbacks. Get additional insights by tracking the reasons for callbacks as well as calculating how much each return trip costs your business.
Is there a particular mistake you end up returning to fix on many jobs? Dig in to find out why it's happening, and find a fix that prevents it on future job sites. Identifying persistent snags is also a good time to tap your crew's knowledge; they might have solid recommendations for a solution that gets the job done better.