Roofing debris management can be tricky. The way a contractor executes tearing off shingles and roofing debris removal can make the difference between a happy customer and an unsatisfied customer.
Every method of roof tear-off and debris management has its challenges. This article covers just a few and how to overcome roofing debris challenges.
Method #1: The Classic Blue Tarp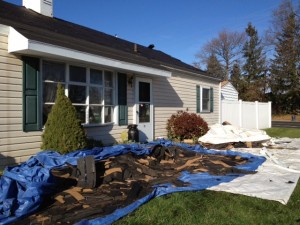 The idea behind the "good old tarp" roof debris management method is to get the shingles off the roof as fast as possible and let it all fall on a tarp at ground level. Although this is one of the fastest short-term ways to get the shingles off the roof, all that weight is hard on the homeowner's landscaping and a disaster to clean up at the end of the day.
Challenge: Tarp Displacement
Windy weather doesn't help matters, either. Depending on what side of the house your crew is working on, wind gusts can move the tarps before your roofers even begin tear-off.
Challenge: Faster Wear and Tear
Constant exposure to falling nails and sharp-edged debris leads to punctures and tears in the old school blue tarp, which means some of your roofing debris will fall out as your manpower slowly drags it with what's left of their strength to the on-site dumpster. Then your crew is stuck wasting more time on cleanup instead of heading home to their families.
Challenge: Constant Replacement
The old school blue tarp loses its durability over time and needs to be replaced every three to six months. With an average of four tarps per job, the cost to replace these resources adds up quickly.
Method #2: Large Dump Truck or Roll-Off Container
Many roofing companies invest in or rent large dump trucks, dump trailers, or roll-off containers to try to reduce the mess of roofing debris during tear-off. While this method keeps most of the shingles and other roofing debris off the ground, the costs add up and your roofers still need to carry debris across the roof to pitch into the dumpster or container.
Challenge: Property Damage
Heavy duty roofing debris equipment like dump trucks and roll-off containers can cause extensive property damage, even when empty. Added weight contributes to deeper ruts in freshly manicured lawns. These large, wide debris containers are also challenging to maneuver, so moving them can damage flowerbeds, trees, and other landscaping. Your customers are already hesitant to spend thousands of dollars on roof replacement—they're not going to be happy to drop more dollars into fixing their yards. And you don't want that expense put on your company and its reputation.
Challenge: Stray Roofing Debris
Although the goal of this roofing debris management method is to get these containers as close to the roof as possible, they often don't fit exactly where they need to go. Picking up and tossing massive amounts of debris during tear-off causes more stress on the body, tiring your roofers faster and making the job last longer. Tossing the debris also usually leads to a messier lawn, because not all of the roofing debris reaches the dumpster or roll-off container. Then your workers are stuck picking up stray nails, tar paper, and pieces of old shingles at the end of the day.
Method #3: The "New Roof No Mess" Way
There is a way to avoid these common headaches of roofing debris management: positioning a smaller, self-driven container underneath the eave of the roofing and placing a chute system on the roof to divert shingles into the container.
The Equipter RB4000 lets everyone on the roof focus on the tear-off and installation process instead of the pains of cleanup. It also provides a great solution for a clean and neat looking job site throughout installation of the new roof. Operable by a single person, the RB4000 moves at walking speed to deliver 12-15 square of roofing debris to a larger on-site dumpster faster than it would take a whole cleanup crew to drag tarps to that same dumpster. Designed with a lightweight aluminum container, this portable dumpster fits where larger debris catchers can't. It's the ultimate answer to roofing debris management challenges, giving your customer a brand new roof with little to no mess.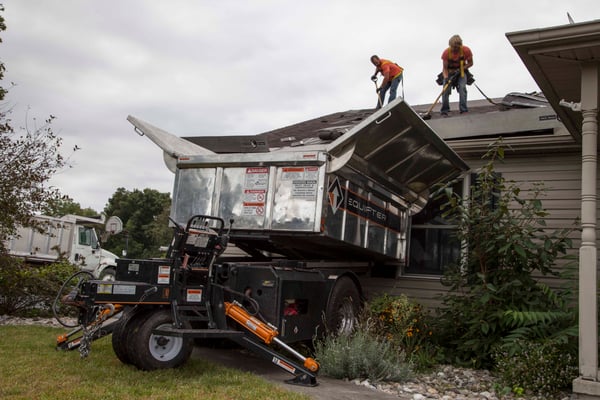 Need more ideas to eliminate debris challenges? Check out Equipter's free guide, How to Solve Roofing Debris Problems.
What's your method of managing roofing debris? Connect with us on Facebook to share your tactics for roofing debris management with us and other roofers.