Stay competitive. Stay profitable. If you're going to lead your rental company to long-term success, you need to stock the equipment contractors want and need to do their jobs efficiently and profitably.
Homeowners and B2B clients expect the best from the contractors they hire. In some cases, that translates into the need for high-tech tools, like drones. In others, it means rethinking a major process, like debris handling.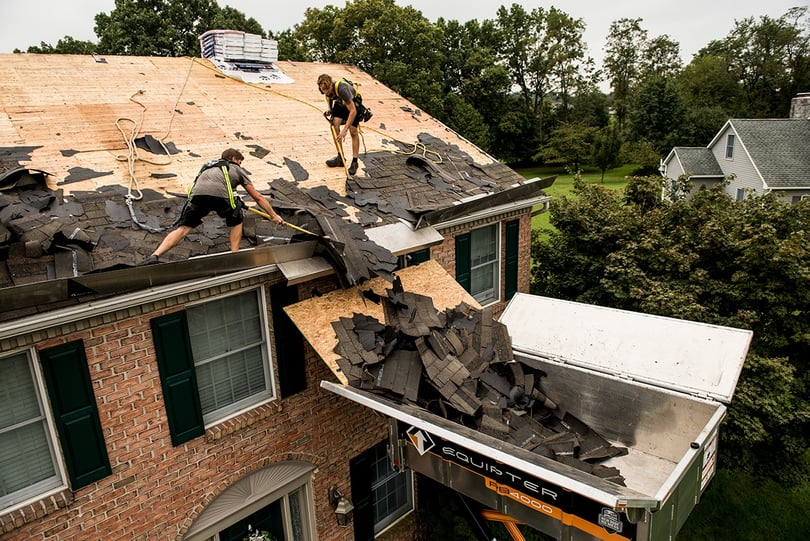 The Equipter RB4000 is a self-propelled roofing trailer that replaces lots of tarps, plywood, and manual labor with a hydraulics-powered container that lifts up to 12 feet high. Crews can drop shingles, old nails, and other debris directly into it, instead of throwing it to the ground. When the container is full, use the RB4000 lift's gas-powered engine to drive it to a dumpster or truck for dumping.
Why the RB4000 lift is right for your rental fleet
Low Maintenance
We've built no-hassle reliability into the RB4000, from disk brakes to greaseless bushings to a dependable engine. The equipment requires little more than standard maintenance, like oil changes and fluid checks. We back each unit up with a 2-year limited warranty.
You can feel confident you'll get maximum uptime so it's rental ready for many years to come. In fact, many of the original Equipters we built over 15 years ago are still in service, despite near-daily pounding from shingles, debris, and tools.
Real ROI
We offer affordable financing options. With a $1,500 deposit and financing for the balance, payments start around $650-$700 per month for 60 months.
So how much can you charge your rental clients? While many factors play into rental rates, on average, U.S. rental locations in 2020 asked $150-$250 per day, $600-$800 per week, and $2,000-$2,500 per month.
Easy Operation
There's no need to hire or provide your own operators. The RB4000, which doesn't require special licensing to use, offers a simple, one-person operation. Along with the operator's manual that comes with the unit, we have two short video tutorials you can share with rental clients as well as a downloadable Spanish-language operator's manual.
Roofers Love It
Roofing is a tough job for tough people. Whether they're lugging heavy tools up a ladder or pulling tarps filled with debris, roofers' heavy manual labor takes a toll measured in aches, pains, and lost productivity.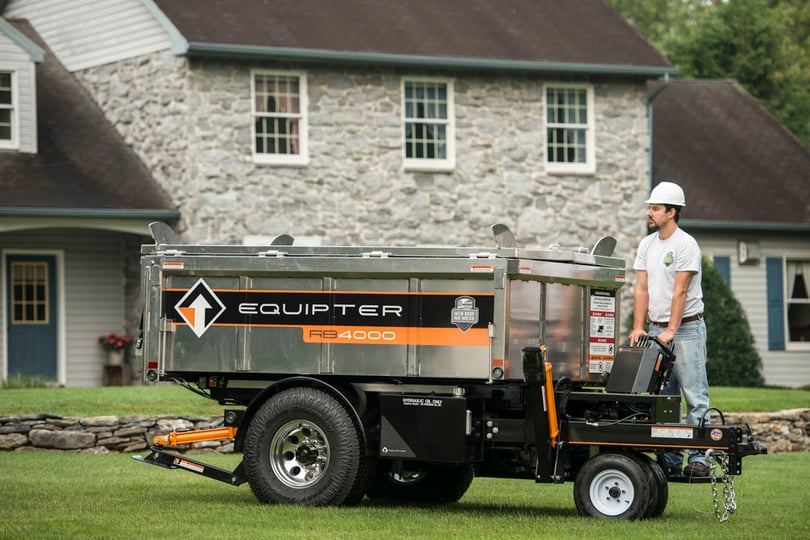 Owner-operators and roofing crews love the RB4000 lift because it significantly cuts backbreaking manual labor while raising productivity. It also maintains a much cleaner job site, which their clients love—and that can lead to more positive reviews and ratings for the contractor.
Lead Gen for Your Business
The Equipter website features a searchable database of rental businesses offering the RB4000 roofers trailer. Our sales team also works closely with roofers and contractors to find and connect them with nearby rental locations. It's a partnership that helps contractors access the equipment they need and helps rental companies connect with qualified leads.
Talk with our team at 717-661-3591 to learn more about becoming an Equipter rental location.