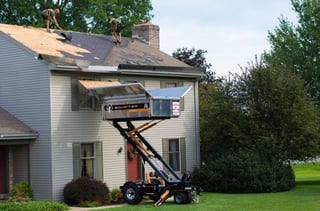 When you own a piece of equipment like the Equipter RB4000, it shows your customers that you went the extra mile for them to ensure a safe, efficient job from start to finish.
In an industry of hard, dirty work, is it possible to deliver 100% to your customers? At the end of a long day the last thing you want to hear is a complaint from your client. Let's be real. With a job like roof replacement, is it even possible to completely satisfy your customer's expectations? Absolutely! Imagine landing a job simply because a homeowner has complete confidence in your capabilities to protect their property. With an Equipter, that can become a reality.
Time and time again, we hear people say that homeowners are thrilled with the Equipter. Not only does it increase customer satisfaction, it also enables roofers to close more jobs. When you use the Equipter on your homeowner's property, it instantly relieves their fears of property damage or debris scattered all over their yard.
Increase Your Professional Image
We recently asked our customers what their experiences have been with presenting the Equipter to their customers. Here's what a few of them had to say:
"It makes our company one that cares about the homeowners' property, flower beds, and landscape. It elevates us in their minds, knowing that we care about them" (Steve Esh, Owner of Joyland Roofing).


"They like the value it provides. Shows legitimacy and professionalism on our end as well" (Mark, Prime Roofing).


"Most of the time when we do one job, we'll wind up doing the whole street" (Jason Reisman, Eustis Roofing).

Are you ready to up your professionalism? Try the Equipter RB4000 before you buy. Click below to find the closest Equipter rental location to your next job.