"From the very beginning, our motto was that when we left a customer's home, we wanted to make sure they couldn't tell we were ever there, except for the fact they had a new roof."
That focus on delivering an exceptional customer experience helped Aaron Nelson and his brother, Toby, grow Nelson Contracting into a successful, referral-driven roofing company.
Yet Aaron continued to be frustrated with the inefficiency of the conventional roofing process. He says, "The biggest issue for me was how I hated doing things three times. I just hated ripping it off, throwing it on the ground, picking it up, dragging it over there, then picking it up into the dumpster or dump trailer."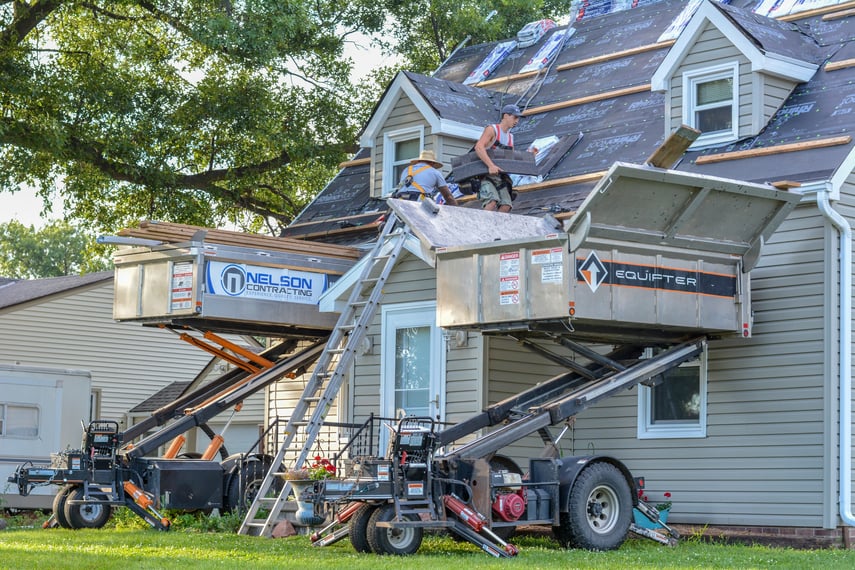 Then Aaron solved the debris management problem.
The business owner remembers first seeing the Equipter RB4000 in an online video. "I'm like, 'That's it! That's the key.'" He recalls recognizing the specialized roofing trailer was a "no-brainer."
Nelson Contracting's team now works smarter, not harder.
Higher Close Ratios
The Nelson brothers already sold a solid product. Using the RB4000 lift helped them sell additional value when doing sales presentations for homeowners. Aaron says, "No exaggeration, 90% of the time the first word they will say is 'Wow.'" That wow factor translates into more sales as homeowners understand the value of hiring a contractor to install a new roof with no mess. "Our close ratios would be about 30-35% of jobs in an average year. Post-Equipter, it's north of 50% every year. Last year, it was close to 60%."
Lower Labor Costs
Aaron estimates the Equipter saves the equivalent cost of one worker per job. And because it significantly reduces heavy manual labor, it lowers injury rates, leading to fewer workers' comps claim and lower absenteeism for the company. Nelson Contracting estimated that the first Equipter they purchased in May 2011 had paid for itself in labor savings alone by the end of that year.
Better Employee Retention
Before they invested in the RB4000, Aaron says crews "trudged" to finish each job. Every step in the roofing process was physically demanding, leaving his team exhausted by week's end. That changed when they added the specialized roofing trailer to their process. "I just don't have guys hurting all the time because they had to haul 4,000 pounds of shingles 4 times throughout the day." He understands the value the Equipter brings for his employees' well-being and Nelson's ability to attract and retain skilled workers.
Aaron says, "They would all quit if I got rid of the Equipter."
Note: The video testimonial has been edited for length. The written case study is based on the full interview with Aaron Nelson.