As a trade, roofing is sometimes saddled with a bad reputation. And while it's true that some roofing replacement businesses deliver shoddy work and non-existent customer care, many of us are professionals who take tremendous pride in our work and our businesses. Today, we're sharing practical roofing business tips on how to build trust with roofing customers and give your company a good name.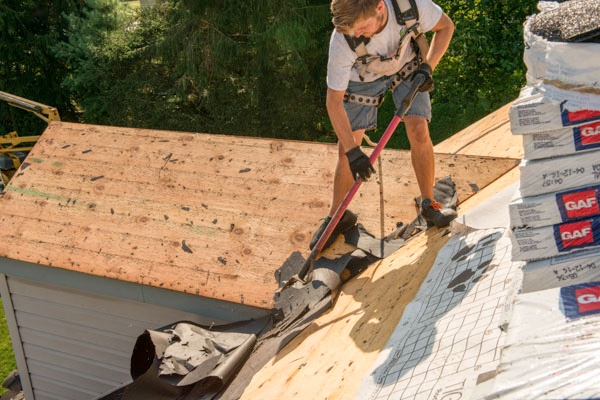 Savvy consumers can and do use a variety of resources to help verify whether a roofer is trustworthy. For example, according to the Better Business Bureau (BBB), people in upstate New York alone used the BBB to check out roofers more than 70,000 times in 2014-15. Homeowners also rely on sites like Facebook, Angie's List, and HomeAdvisor to find reviews for roofers.
Here's how to build trust with homeowners who ask you for a quote or inspection:
Use a roofing process that shows their property matters.

A homeowner wants peace of mind that a roofing crew isn't going to rip up the yard, destroy flower beds, and litter the property with nails and other debris. Implement a standard process for professional-quality roof repair or installation that includes consideration for the property and a focus on excellent customer care. Roofing tools like the Equipter RB4000, a self-propelled container that streamlines material handling, will help you deliver big for homeowners.

Walk homeowners through the roofing process.

Whether the job is to repair storm damage or replace an aging roof, one of the top ways to build customer trust is to outline what's going to happen. You might need to explain anything from the insurance claims process to how your crew will navigate the heirloom rose bushes next to the home. This lets homeowners know you have a plan for their project and understand how to get the job done right.

Do what you say you're going to do.

It's a given that any contractor should—barring bad weather or other uncontrollable circumstances—meet project deadlines. However, consider that consumers form opinions about a company starting with the initial contact. So always show up for a scheduled inspection on time, or send the proposal email to the client when you say you're going to send it. These are subtle but important messages that let the homeowner know you're worthy of his or her business.

Hire roofers who care about customers.

Before we created the Equipter RB4000, our family owned a roofing replacement business. We understand firsthand the value of hiring roofers who care about their workmanship and their customers. Focus on hiring and retaining teams with the skills and attitudes that help convince customers to refer your roofing business to family, friends, and neighbors.

Share your expertise.

Roofing blogs and Facebook pages are ideal channels for showing prospects you're the roofer to rely on. Create a blog calendar or social media plan you and your team can follow to give consumers or property managers tips and guidance on their roof, gutters, windows, and other property features. Grab 25 Free Roofing Blog Ideas to set yourself up with a half-year of blog topics. Digital marketing isn't the only way to show homeowners that you have know-how they can trust. Look for or create opportunities to share advice on radio shows, local news shows, or during community events.
Your turn: What roofing business tips do you have for building trust as a contracting professional?