Work smarter—not harder. It's a simple concept, but one that can radically raise your profit potential. This article covers five simple ways to boost productivity within your roofing business.

1. Do a roofing equipment inventory and audit.
Give the roofing equipment and tools your crews use a good look-over. Equipment that doesn't work properly or reliably can add time to any job, so make note of tools that are in poor repair or have seen better days. If you find shoddy tools, plan to repair or replace them. Even if you can't make the investment now, you can work it into your budget to make the purchase later.
Also take note of tools your roofing company doesn't yet own but might be wise to consider. For example, if you've been using a conventional trailer for debris management, consider roofing equipment specifically designed to increase job site efficiency, like the RB4000 or RB2000 roofing containers.
2. Go app shopping.
Technology can be a big-time productivity booster for roofers, yet you might not even be aware of all the roofing apps available to streamline tasks. For example, Pitch Gauge offers a range of functions, from accurate measurements to visual guides to project management tools. Check out more highly recommended roofing apps and calculators for streamlining bidding, estimates, and design to help improve your roofing company's processes.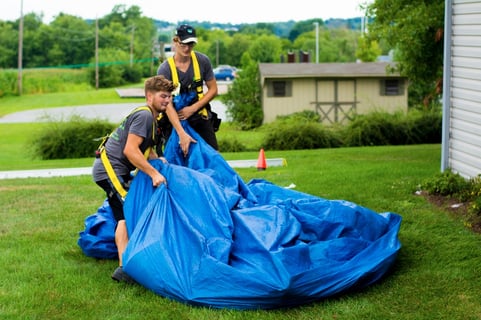 3. Identify your company's most painful process—and then look for ways to automate it.
What's that one significant task that always triggers moans, groans, or even face plants into the desk? Maybe it's scheduling or debris management or the technology that your roofing crews use to communicate with each other on the job.
It's time to start poking around for a solution to that issue. Perhaps the answer is to automate inspection reports or speed up invoice creation. Or maybe you simply need a more reliable internal messaging system. From apps to software programs, the solution is within reach.
4. Ask roofers for productivity feedback.
These folks are on the rooflines day-in and day-out. One of the best ways to boost productivity on the job is to get their input on what they need, from resources to training courses, to do roofing jobs more efficiently. Don't forget to ask younger or newer members of your crew as well—even those teenagers working their first summer with you. They may be able to provide a fresh perspective that more experienced workers can't.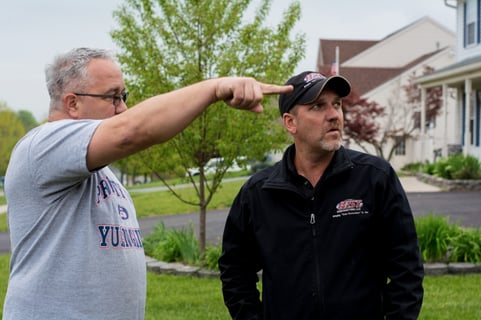 5. Ask non-roofer employees for productivity feedback.
From back-office support to salespeople, these team members know what processes and tools speed them up—and which ones slow them down. Ask these critical employees to provide feedback on how they can boost productivity to make your roofing business run more smoothly.
Do you have other ways to boost productivity within your roofing company? We'd love to hear them! Connect with us on Facebook to share more ideas and find more tips for running a successful roofing business.