The seed of any successful landscape business lies in an effective marketing plan. But what steps can a busy business owner take to move marketing to the next level? Boost your landscape marketing with these pro tips.

1. Bring customers in with inbound marketing.
Inbound marketing is a technique used to attract prospects to your landscape business by providing the right information at the right time—rather than blasting them with advertising like direct mail or radio spots. For example, landscape marketing that leverages an inbound strategy might mean you regularly post blog entries with information a prospect or customer might find useful, such as how to maintain a green lawn during a drought or how to best protect a sapling from critters. When done well, inbound marketing is an effective way to land more landscaping leads. To learn more, we recommend checking out HubSpot Blog's marketing resources.
2. Use professional-level landscaper's tools.
Marketing is about more than words on a webpage or pics on a brochure. It's also about delivering the high quality service that makes it easy for customers to refer your landscaping company to family, friends, and even coworkers. One way to deliver big-time is to utilize professional equipment, like the Equipter RB3000, to your landscaping equipment lineup.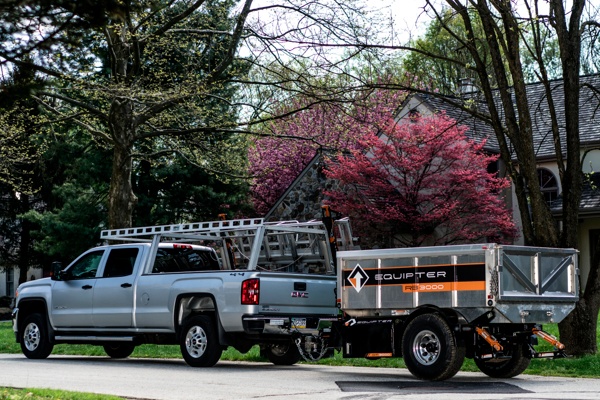 The RB3000 is a specialized, self-propelled dump trailer. Tow it to the job site, just like you would any other container or trailer. Then unhitch it and use its small but powerful motor to drive the 6-foot by 13-foot container virtually anywhere onsite.
This drivable trailer easily transports dirt, rocks, mulch, and other materials. Because it features lightweight construction and wide tires, this landscape trailer is less likely to dig ruts into lawns and beds like a larger container would. Use the hinged tailgate to easily and efficiently deposit your customer's landscaping materials wherever you need to place them.
Customers love the RB3000 because it helps landscapers get their projects done faster while keeping the job site looking cleaner—plus, it reduces the risk of property damage, a great landscape marketing message.
3. Be the landscape design expert.
Another way to ratchet up your landscape marketing game is to brand yourself as the go-to expert in your area:
Publish regularly on your landscape company's blog
Create guest column opportunities in local newspapers, inserts, & magazines
Create opportunities to act as a guest expert on relevant blogs, websites, and podcasts
Offer advice and guidance at local home shows
Volunteer your landscaping company's time and talent to community projects, such as cleaning up a local park or refreshing landscaping for a nonprofit organization
4. Leverage outside experts to boost your landscape marketing.
As a business owner, you don't have days to dedicate to create and implement a solid landscape marketing strategy. But there is a solution. Maximize your time by considering outsourced help with your marketing plan. Use these experts to fill the gaps in your own skill set. For example, maybe you feel comfortable writing marketing copy but can't draw a recognizable smiley face; consider hiring a freelance graphic designer to create marketing materials, such as website pages, a logo and letterhead, or print pieces. The right professional will save you time—and they'll likely do the job with more skill than you or internal team members. The result? Professional work that better differentiates you from the landscaping competition.
You're good at creating and maintaining beautiful landscapes—now get better at marketing your business. Use these tips and more from the Equipter blog to help your business grow, and don't forget to connect with us on Facebook!