Wishing you had higher landscape sales won't make it happen. However, you can take actions to lift sales so your landscape business builds better profit potential. Here are steps that will help you lift landscaping sales at your business.

1. Rev up your referral machine.
Referrals are one of the most effective tools to generate new sales for your landscaping business. The foundation of any strong referral strategy is to deliver stellar service. That includes putting processes in place to complete jobs efficiently. Stellar service also entails having a solid process for quickly and professionally handling customer complaints when they do occur.
Other ways to make customers more likely to refer your landscaping business include sending clients "thank you" notes and/or giving small appreciation gifts, like a gift card to a local restaurant, when the job is completed and during the winter holiday season. These might seem like little things, but expressing gratitude toward a customer will help your business stay top of mind when a friend or family member is looking for landscaping services.
2. Build a strong portfolio of online ratings/reviews.
More than 90% of consumers read online reviews for local businesses, and 40% form an opinion after reading just one to three reviews. Create a process that asks customers to post reviews and ratings of your landscaping company. If you use email to connect with customers, include direct links to your profile on review sites, like Angie's List or Yelp, within the email to allow them to easily leave an unbiased review. You can also include a reminder on paper invoices or other post-sale print collateral.
Are you worried that asking for reviews opens up the possibility of negative reviews? It happens even to the best local businesses. However, the way you handle a bad review can actually build a stronger sense of trust with prospects. Check out these tips for responding to a bad online review.
3. Use professional-grade equipment.
Impressions matter—and that means everything you and your crews do, from the way office employees answer the phone to what type of equipment you use on the job site, affects how your customers view your landscape company. Quality, efficiency-boosting landscaping equipment like the RB3000 landscaping trailer can help you build that professional image.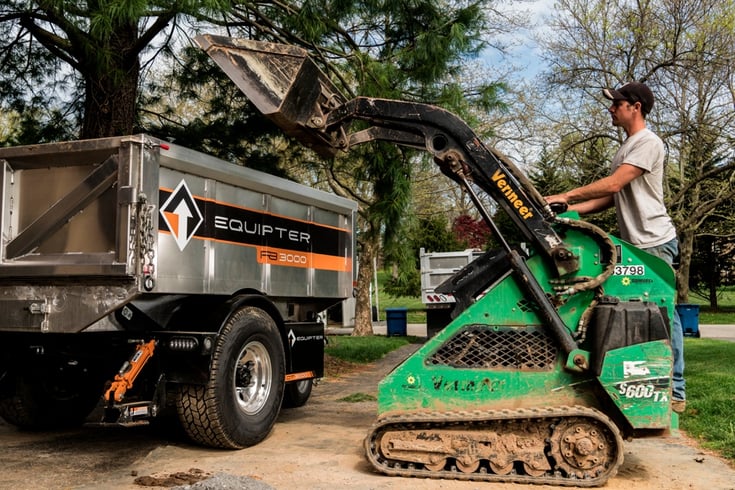 The RB3000 is a self-propelled dump trailer that streamlines how your landscape crew hauls and manages materials and debris on any residential, commercial, or construction site. You simply tow the equipment to the site, as you would with a conventional utility trailer. When it's time to get to work, engage its gas-powered engine to drive it wherever you need it on the site. The mobile trailer also offers a hydraulic dump, so you can position dirt or other materials in the right spot. The result is simplified debris handling and less chance for property damage, both of which will set you apart from the competition and increase your landscape sales.
4. Leverage technology to entice prospects.
From videos to apps to CAD programs, technology can help prospects better visualize how your landscaping business will improve their property. It can be as simple as showing the homeowner or property manager a video of how your crew gets the job done quickly with landscaping equipment like the RB3000. Or you might leverage technology by using a web conferencing platform to screen share a landscaping design with a prospect vacationing in another state.
Increasing landscape sales is a process. Develop your strategy with these tips and more, and don't forget to let us know how these sales tips have helped improve your landscaping company!