Manual labor is a significant part of any HVAC, electrical, or plumbing business. And when you're a business owner or manager, you're on a constant mission to reduce labor hours. With professional contracting equipment, like a mobile crane, you can do exactly that.
Reducing Manual Labor = Completing Jobs Faster
Time is money. Decreasing the amount of time it takes to complete projects can go a long way toward boosting your profit potential. But how can you save time without sacrificing quality service and production?
The Equipter CR8400 compact mobile crane is the perfect tool for reducing manual labor. This portable crane delivers tons of features designed to help your contracting crews work smarter—not harder:
23-foot lift: raise tubs, showers, pipes, supplies, and other equipment to a second story
4,500-pound capacity: easily move air conditioning units and boilers around residential or commercial properties
Gas-powered engine: drive the crane and its load virtually anywhere on a job site
The result is a job completed faster with less physical labor, keeping labor costs down—and keeping customers happy! All of that equals a healthier bottom line for your contracting business.
Reducing Manual Labor = Lowering Risk of Job Site Injury
Decreasing manual labor is about more than boosting the bottom line—it also helps you protect employees from the risk of strain or injury. In 2015 alone, nearly 3 million nonfatal workplace injuries occurred in the United States.
From fatigue-related mistakes to lifting-related strains, the hard work demanded for HVAC and other contracting jobs can put significant wear and tear on workers' physical well-beings. Those injuries take their toll on your business and your employees in the form of downtime, worker's compensation payouts, lost wages, and lost productivity.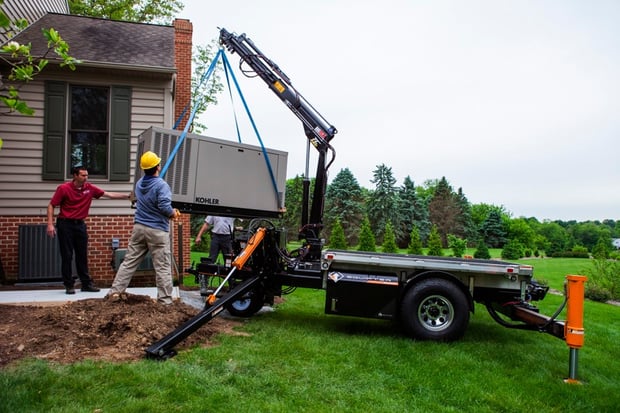 Contracting equipment like the CR8400 mobile crane does the heavy lifting so your crews are less exposed to strains, pulls, and other injuries on the job. What's more, the crane's 23-foot reach lets you easily and safely move materials and tools to a second story, which means your workers don't need to risk injury by lugging supplies up a ladder or steep set of steps.
How do you plan on reducing manual labor costs in your contracting business? Tell us on Facebook!
Looking for more tips on boosting your construction company's bottom line? Use this checklist and follow our blog now.