Removing debris from a flat roof is more challenging than replacing a pitched roof. But the right tools and equipment help increase efficiency for a commercial or residential crew during a flat roof replacement.
Is your crew using the right equipment for flat roof tear-off?
Tackle any part of the job.
Many tools, including the Equipter RB4000, are handy for multiple types of flat roofing systems. With a 12' lift and 4' rollback, this self-propelled dumpster is ideal for nearly any flat roof job.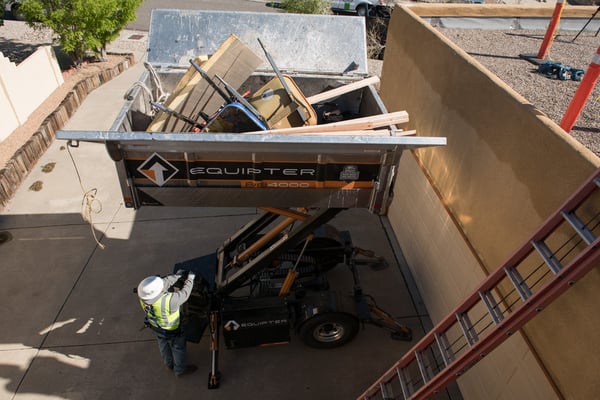 Take a look at just some of the ways the portable dumpster can enhance how you repair and replace flat roofing systems.
Reduce supply delivery charges and delays.
Is the convenience of delivery worth the extra charges and potential production delays? With the RB4000 in tow, you can easily swing by a supplier or home improvement store and pick up over an additional 3,000 lbs of materials and supplies.
Save energy during daily prep.
Need to get wheelbarrows, tear-off shovels, and other flat roof replacement tools on the roof? Skip the cranes and laddervators. The RB4000's 12' hydraulic-powered lift takes the hassle out of hauling everything across the site and up construction ladders, saving your crew time and energy at the beginning of the day.
Transport and lift everything from wheelbarrows and torches needed for modified bitumen system installation to special equipment needed for flat roof repairs.
Trash cleanup time.
Shoveling debris right into the RB4000 reduces the need for such a large ground cleanup crew. Whether you're tearing off built up roofing, single ply membranes, TPO, or EPDM, containing the mess is much simpler with a liftable dumpster. This can get more crew members on the flat roof to speed up tear-off and repair or installation without sacrificing your reputable quality.
The Equipter RB4000 even handles metal roofing. Many users find it most effective to line the dump container with plywood. Contractors typically screw or bolt the plywood around the interior perimeter of the container to prevent it from sliding out during the dumping process. This helps maintain, and in some cases extend, the longevity of the already durable and rust-resistant dump container.
Improve residential and commercial flat roof replacement.
Whether you're replacing flat roofing systems in Texas, New Mexico, or even California, the RB4000 can help you get jobs done faster, boost employee morale, and further improve customer satisfaction. The liftable dumpster can be used on residential and commercial roofing projects anywhere in the country on anything from steep slope roofs to flat roofs.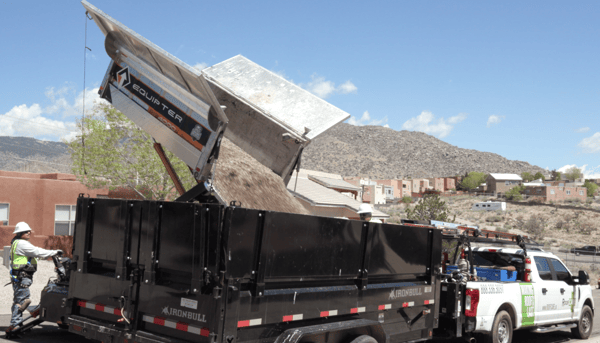 Roofing company RoofCARE has been using the RB4000 to help with the repair and replacement of multiple types of roofs, including flat roofing systems, since 2016. From setup to production to cleanup, the self-propelled dumpster has revolutionized how their roofers view everyday tasks. Watch the company's story here.
Put the Equipter RB4000 to work for you on flat roof replacement jobs. Find the closest rental location to try it for yourself or click the button below to start building yours now.