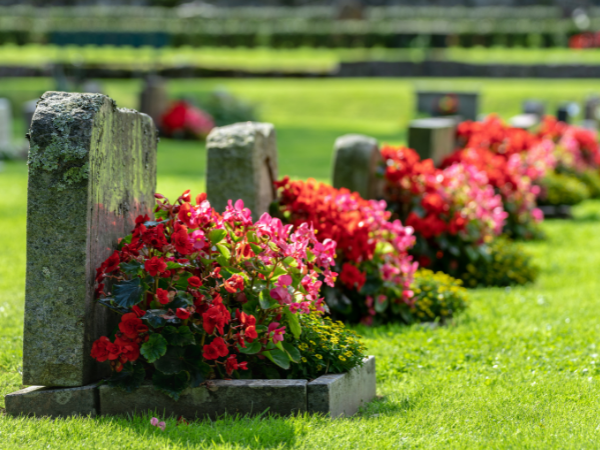 From dealing with hidden debt to arguing over the deceased's last will and testament, the last thing a beneficiary and their family want to stress over is how the gravesite looks on the day of the burial.
As the gravedigger, you have the power to maintain a clean and respectable environment during this tough time. All it takes are the right tools.
When you use the right compact grave digging tools, you help create a less unpleasant experience for those who may have just lost the closest relative they've ever known. They can focus more on honoring the deceased and less on how muddy the burial site might otherwise be.
Not sure exactly which tools you should use to provide that sort of experience? This article covers a few for you to consider.
Mini excavators
Imagine walking down a row of chipped and out-of-place headstones to reach your brother's gravesite. Or glancing over at torn-up turf up an aisle of neighboring graves. You likely wouldn't be comfortable with the care that the cemetery has shown for other deceased residents–how can you be sure your brother's grave won't be treated the same?
A wide, heavy excavator barreling down rows and rows of graves can cause thousands of dollars in damages, knocking over and breaking headstones just to dig another grave.
A compact or mini excavator is a lightweight option for digging that will easily fit between grave markers and is less likely to tear up the lawn while you drive it to the grave.
Be sure to do your research and consult your local heavy equipment provider for information on specific excavators for grave digging.
Compact cranes
When it comes to transporting and placing large headstones, compact mobile cranes can take the heavy lifting off your hands.
The Equipter CR8400 is handy to have in your arsenal of grave-digging tools. This self-propelled flatbed trailer features a 23-foot extendable arm with a crane lift capacity of 4,500 lbs (893 lbs max with arm fully extended), making it easy to move grave liners and place headstones during and after the grave-digging process.
Being less than 6 feet wide, the CR8400 is small enough to fit down rows of grave markers to get to where it's needed. This mobile crane also sits at a tare weight of 5,280 lbs and has wide tires, allowing for proper weight distribution without tearing up the ground.
Drivable dump containers
Drivable dump trailers likely aren't the first things that come to mind when you think "grave digging." But they can be surprisingly helpful.
For example, the Equipter RB3000 is a compact drivable dump trailer that has been enhancing efficiency for grave diggers for years. This landscape trailer avoids tearing up turf and is narrow enough to drive around headstones in cemeteries.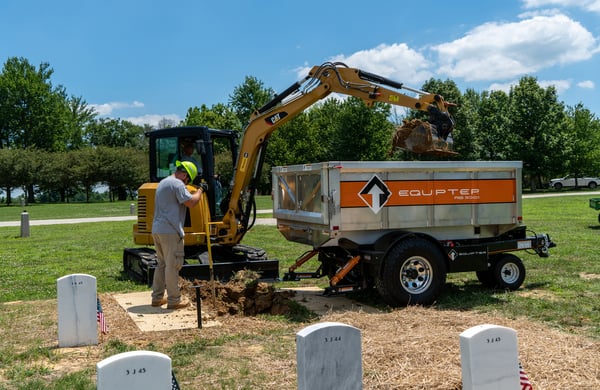 The RB3000 can be loaded with up to 4,000 lbs of dirt and rock by whatever compact backhoe or excavator you're using in the graveyard. After the RB3000 is full, simply drive the RB3000 away from the site before the funeral. This gives family and friends a better experience–no equipment or piles of dirt as an eyesore. After the event is over, the RB3000 can be driven back and all the dirt dumped back into the grave to wrap up the burial in record time.
Using a compact digger in combination with the Equipter RB3000 makes for a cleaner and efficient process that both helps you, as the gravedigger, do your job better (which helps you get even more jobs) and create the cleanest experience possible for the family during this difficult season of their lives.
Ensure your grave digging equipment arsenal contains high-quality, efficient tools that make jobs easier for you and experiences less stressful for families in mourning.