Selling roofs is hard work; and it doesn't help that door-to-door salespeople aren't always welcome, especially if the homeowner is worried you're a fly-by-night contractor. However, roofing professionals can learn how to sell roofs door to door successfully with these tips.

1. Take a big step backward after ringing or knocking.
No one wants to open their door to find a stranger standing in their face. Help the homeowner feel as comfortable as possible by moving back a few feet from the door. This simple technique helps make that first impression a positive one.

2. Get to the point.
Don't frustrate potential customers with lots of chit chat. They already have you pegged as a salesperson with an agenda. Instead respect their time and get to the point with a rehearsed, but conversational, greeting that states exactly who you are.
Hi. I'm [NAME] with [ROOFING COMPANY] in [TOWN/CITY]. Yesterday's hail storm did lots of damage to homes in this area. I'm checking to see if anyone has gotten onto your roof to inspect it for damage.
3. Listen to the prospect.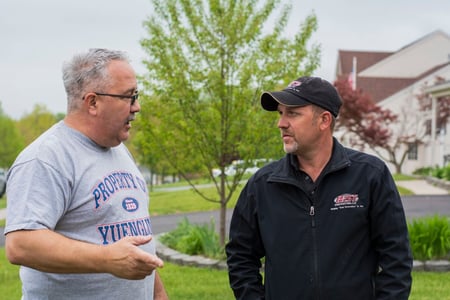 It's easy to let a pitch go onto autopilot, but the most effective salespeople are those who actively listen to homeowners and adjust accordingly. Selling roofs successfully begins with a conversation to identify their pain point. Then, highlight a specific way your company will ease that pain.
Is the homeowner stressed about the prospect of dealing with the insurance company? Let them know your business is familiar with handling insurance claims and will take care of much of the paperwork for them.
Are they worried about having their prized rose bushes crushed by a traditional roofing process? If you use the Equipter RB4000, explain how this equipment changes the way roofers work to significantly reduce the risk of property damage.
4. Turn a "no" into a long-term prospect.
If you're selling roofs door-to-door in the area because your company is doing a replacement in the neighborhood, it might be worth the time to dig a little into a homeowner's "No, thanks." Ask him or her if they'll be looking for a new roof within the next year, which is entirely possible if their home is roughly the same age as the home your crew is working on.
If the answer is "no," move on and invest your time with viable prospects. However, if they say "yes," ask permission to contact them in a year for a free roof inspection.
5. Always make sure the last impression is a good one.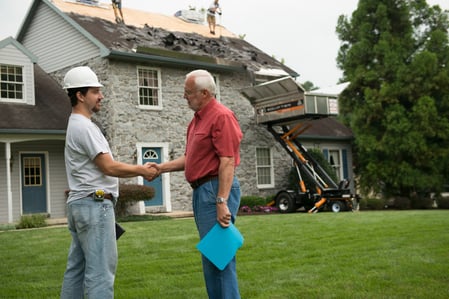 Want to learn how to sell roofs door to door successfully? Remember to be polite, no matter how the homeowner treats you. Reacting in a negative way will poison any future potential relationship with that homeowner, but the situation can also go public quickly.
It's not uncommon for neighborhoods to have private Facebook groups, making it easy for a homeowner to notify neighbors there's a "pushy" or "rude" salesperson knocking on doors. A bad door-to-door experience can also end up on roofing company review sites like Yelp or Angie's List. (Learn how to deal with negative feedback in 5 Roofing Business Tips: Responding to Bad Online Reviews.)
Bonus tip: Stay positive.
You're going to hear "no" a lot. You might get doors slammed in your face. You might get barked at. Those factors can wear down even the most enthusiastic salesperson by the end of a long day. Work to stay as positive for your last sales call of the day as you were on your first. Get inspired by reading Door-to-Door Selling as the First Step to Billions.