The Equipter team is getting ready for the International Roofing Expo March 1-3, 2017, at the Mandalay Bay Convention Center in Las Vegas.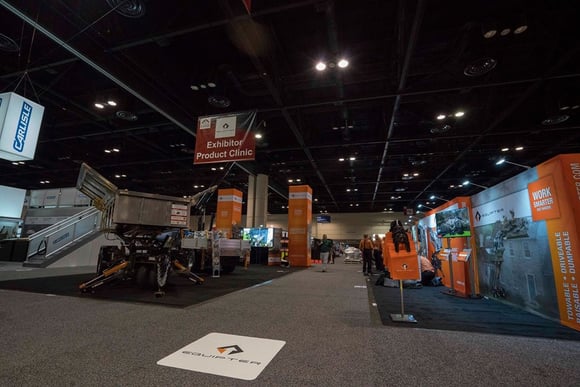 Visit us at Booth 2131, near the Building and Technology Pavilion. We'll have exciting developments to share with you, including:
A chance to win a FREE ONE-MONTH TRIAL of our most popular roofing tool, the RB4000
This is your opportunity to play with an Equipter RB4000 for one month. Entry is easy—just visit Booth 2131 and have someone from our team scan your badge. *The free trial giveaway is open to U.S. contractors only.
Our newest roofing tool to boost productivity, the RB2000
At this year's IRE, we'll be debuting the Equipter RB2000--the RB4000's scrappy little brother. It offers many of the productivity-boosting features of the larger "Roofer's Buggy," including a gasoline-powered engine, 7-foot lift, and hydraulic dump. The narrow container and lightweight construction are designed to help you manage roofing debris in tight spots, from city sidewalks to small town alleys.
Our improved New Roof No Mess Program®
We've redesigned the New Roof No Mess

program

, which delivers top-quality marketing materials for roofing professionals using an Equipter RB4000 or RB2000. Our team has eliminated the sign-up fee and simplified the sign-up process. In addition, New Roof No Mess now includes updated materials and a continuously growing collection of resources to help your business work smarter—not harder. Visit us at Booth 2131 to learn how this roofing marketing program will help you boost close ratios and build a healthier bottom line.
So stop by to see what's new and say "hi" to the Beiler family, including CEO/Owner Aaron, Sales Manager Dave, and Marketing Director Sam. Additional members of the Equipter team will be on hand to answer questions and talk roofing as well.
See you at IRE in Vegas at Booth 2131!