When you're in a service business like landscaping, referrals are the foundation for building a profitable company. That's why providing excellent customer service and using top quality landscaping equipment is essential. Make sure you have a strategy for developing rapport with your customers—add a customer referral program to your landscape business plan.
Want more tips on how to increase referral business for your landscape company? We've got you covered. Check out our professional advice below.
Express gratitude for clients' business.
Quite simply: say, "Thank you." When you want to generate referrals for your landscaping business, this is one of the easiest strategies for sticking in the customer's mind. Thank each and every client at an appropriate time, whether that's after they sign a long-term lawn care contract or after the completion of a landscaping installation.
You have plenty of options for saying thanks. It can be as simple as handwriting a thank-you note and sending it via snail mail (separately from the bill, of course!). Also consider sending a gift card for a local business, like a cafe or movie theater, to help your customer create a memorable experience with their loved ones. Practical gifts that are relevant to your business keep your landscaping service top of mind throughout the season, too, so don't rule out fun and unique gifts like a branded flower pot or watering can.
The investment you make in landscape business referral gifts speaks volumes to your customers (and serves as a business writeoff when tax season rolls around).
Commit to a professional image.
Landscaping is a dirty job and your crews sweat hard, but that doesn't mean you need to present an unprofessional image. When clients know they're working with a professional team, they're much more likely to recommend you to family, friends, neighbors, and colleagues. Maintain team professionalism on the job site by:
Supplying crew members with branded t-shirts, sweatshirts, or other gear. Replace it as it becomes worn.
Keeping company equipment and vehicles clean and in good repair.
Ensuring crews maintain a professional demeanor on every job, including doing simple things like using appropriate language and maintaining a clean job site.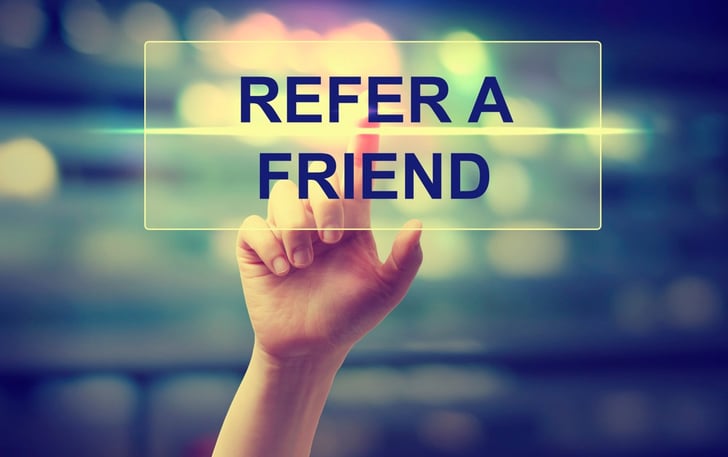 Offer a compelling customer referral incentive program.
For many landscaping companies, a formal referral program can help generate word-of-mouth business. Take time to consider how a solid incentive will encourage your clients to send more business your way. For example, you might use an incentive that gives a $25 gift card to the referring customer and another $25 gift card to the new customer.
Use productivity-enhancing equipment.
The Equipter RB3000 is a landscaping trailer that allows you to deliver the exceptional service that makes it easy for clients to give business referrals. It's a self-propelled, dumpable container that moves and deposits dirt, gravel, and other landscape materials virtually anywhere on the job site for quicker, easier hauling than traditional methods like shovels, wheelbarrows, and ordinary trailers. The result is faster and more efficient job completion—a benefit customers love and will, in turn, influence them to refer your landscaping business to others.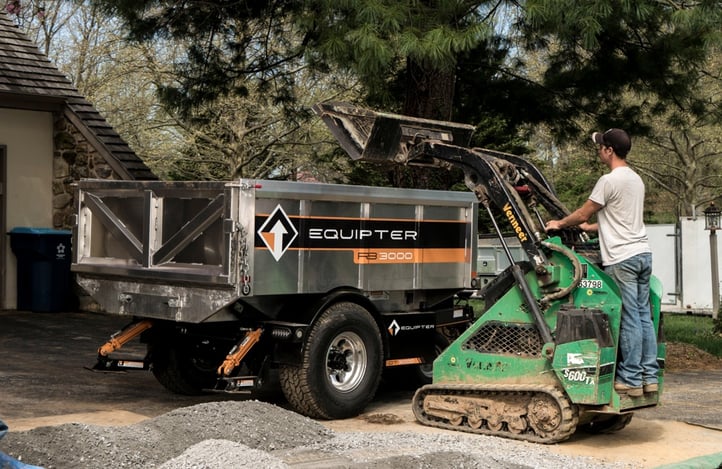 The trailer was designed by a family-owned residential roofing business that understands the value of reducing property damage, like ditches in a homeowner's lawn and landscape beds. That's exactly why the RB3000 for landscapers was engineered with wide tires and lightweight construction—it's less likely to damage existing property.
Develop partnerships with realtors.
Realtors can be a valuable source of referrals for landscaping companies. These professionals can offer referrals for clients in need of landscaping or lawn care before putting their home on the market, as well as clients who have just moved into a new house. Get to know residential real estate agents through:
Local networking groups
Coworking spaces
Local chambers of commerce
Community events like home shows
Learning how to generate and increase referrals will help you grow your brand awareness and business as a whole. Already have a landscape referral program? Check out these other eight ideas for landing landscaping customers and be sure to bookmark our blog for more info on bettering your business.